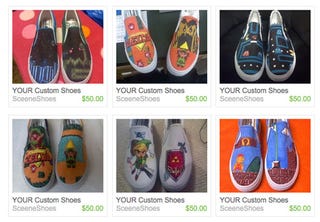 Etsy seller SceeneShoes is offering custom slip-ons with custom artwork. The pictured shoes are not for sell and are examples of previous works. Remember! These are custom shoes.
You'll need to tell 'em which shoes you want, because these are their custom shoes and you want your custom shoes. The keyword here is "custom."
We love The Legend of Zelda as much as the next, but what's with all the Link shoes? People love Link.
SceeneShoes's Shop Announcement [Etsy via Wonderland]