The games development research lab GAMBIT, at the Massachusetts Institute of Technology, has launched a study of sports video gamers, one a researcher believes will be the first comprehensive, independent examination of a very large video game segment, but one often seen as an outlier to the wider culture.
The researchers are seeking respondents to a 10-minute survey that queries one's gaming preferences, one's sports gaming habits, and other demographic information. The survey will conclude at the end of the month, with its results due for publication later in the journal of the Digital Game Research Association.
"In talking with my colleagues about learning experiences in sports video games, we came to realize that nobody, really, in the game studies discipline is looking at sports," said Abe Stein, of the three person research team at GAMBIT. "And not by people who actually play sports games, and know much about it themselves."
Stein, 30, would be someone who does. He's been a video games player his entire life but "none hold my interest like sports games do." He has some unsubstantiated guesses about who sports gamers are, why they play sports games and what they do in them, but the goal of the research is to figure out what really makes this community tick.
Stein will be looking for data that points to how sports gamers "negotiate their fandom" through video games - "how does that inform your play, how do you derive meaning from that." His colleagues will be examining social gaming aspects and learning experiences from them as well.
G/O Media may get a commission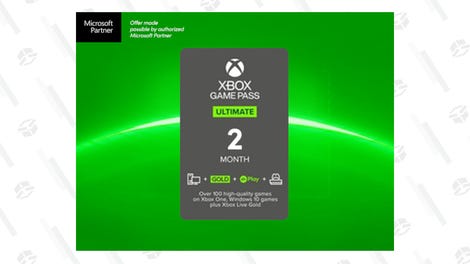 70% Off
Xbox Game Pass Ultimate Two-Month Subscription
At the conclusion of the survey, respondents may indicate they're willing to be contacted for a more in-depth interview by one of the researchers, to expand on their answers. The survey's questions ask gamers to describe meaningful sports game experiences they've had, list their preferred sports titles, and also what other games they play, and whether they are fans of or participants in sports activities elsewhere in their lives.
Stein reasons that large operations like EA Sports and 2K Sports do heavy market research, more attenuated to specific products and their features. This is something that will be foundational in knowing who sports gamers are and how large their numbers are. So if you've got the 10 minutes, by all means participate.
Singapore-MIT GAMBIT Game Lab Sports Video Game Survey [MIT]