Theres a big auction going down in Hollywood this weekend for a range of official props, photos and film from classic films like Star Wars, Lord of the Rings, Alien, Indiana Jones and Star Trek.
Called Drama: Action: Romance, the lot spans over half a century of blockbuster films, but it's more recent (and nerdy) items that'll probably have your attention.
Some of the gear up for grabs include:
• A marvelous selection of items from the Star Wars franchise, including an original X-Wing Fighter miniature.
• Harrison Ford's "Indiana Jones" revolver from Raiders of the Lost Ark.
• Kate Winslet's signature "jump dress" from James Cameron's epic, Titanic.
• Orlando Bloom's hero "Legolas" bow from The Lord of the Rings trilogy.
• Leonard Nimoy "Mr. Spock" second-season velour Starfleet tunic from Star Trek: The Original Series.
That "marvelous" selection from Star Wars has stuff like Dak's helmet, scripts used on the set of the first three films, the Millennium Falcon miniature used when hiding on the back of a Star Destroyer, an actual Scout Trooper's blaster and Luke's lightsaber from Return of the Jedi.
Those who like their sci-fi a little more violent should know there's also an original pulse rifle from Aliens (which is expected to go for between $40,000 and $60,000).
G/O Media may get a commission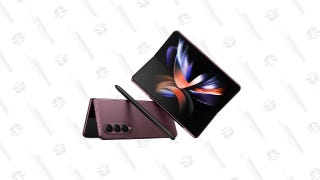 Save Up to $300
Galaxy Z Fold4
You can check out the whole lot at the link below.
Drama: Action: Romance [Auction]