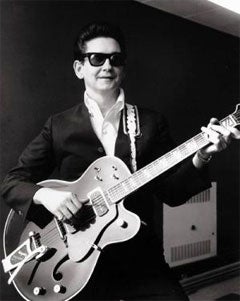 Harmonix confirmed today what you may have already had leaked all over you: a Roy Orbison six-pack is hitting the Rock Band series next week. The tracks?
You already know. "Claudette", "In Dreams," "Mean Woman Blues," "Oh, Pretty Woman," "Ooby Dooby," and "You Got It," six tracks that span nearly years worth of Orbison's career. Pricing is the standard $1.99 USD (160 Microsoft Points) per track or $9.99 USD (800 Microsoft Points) for the full half-dozen. They'll hit Xbox Live Marketplace on January 6th, the PlayStation Store on January 15th.
Good work, Harmonix. You're this much closer to a copy of Rock Band being purchased by my dad. No joke.