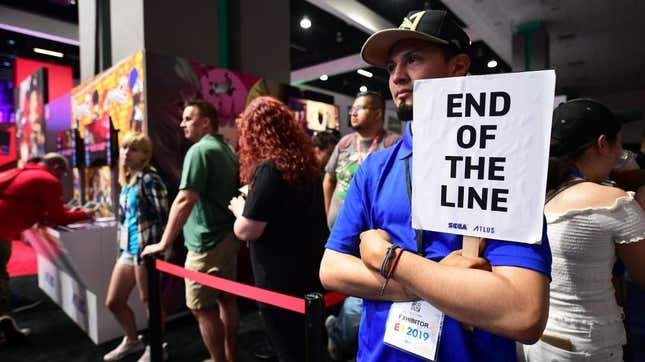 This was supposed to be the year, after industry setbacks and a global pandemic, that E3—once the brightest centre of the video game universe—came back "recognizably epic" as a live show for the first time since 2019. Reports today indicate, however, that it will be doing so without any of the console industry's power players.
Thank You, PS Plus, For Making My Backlog Even Bigger
A story on IGN this evening says "all three of gaming's first-party console manufacturers appear poised to skip E3's big return", meaning that for the first time in the live show's history not a single one of them will be at an event that was traditionally their highlight of the whole damn year.
Update 2/24/23 12:17 p.m. ET: A spokesperson for Nintendo confirmed to Kotaku that it would not be attending E3 2023 because the event "didn't fit into our plans," but doesn't rule out attending in the future:
We approach our involvement in any event on a case-by-case basis and are always considering various ways to engage with our fans. Since this year's E3 show didn't fit into our plans, we have made the decision to not participate. However, we have been and continue to be a strong supporter of the ESA and E3.
While this is a definitive final straw for E3, this has been coming for a while. Nintendo stopped holding big E3 press conferences ten years ago (though the company had a showroom floor presence at the last live show in 2019), and Microsoft and Bethesda recently pivoted to holding their own showcases alongside the E3 festivities. Sony also began passing on E3 stuff a few years back.

While Microsoft won't be at any official E3 events, boss Phil Spencer says that, as they've done the last few years, Xbox will in 2023 be doing stuff alongside E3 so that any press and industry folks in town for that show will be around for theirs as well. It's not known what Nintendo and Sony will be doing in E3's stead, if anything, though Geoff Keighley's rival Summer Games Fest will be taking place at roughly the same time.
It's important to note here that this isn't the same E3 as the olden days. Events specialists ReedPop took over planning of the show last year, and said:
For years, we've listened, heard, and studied the global gaming community's feedback. E3 2023 will be recognizably epic—a return to form that honors what's always worked—while reshaping what didn't and setting a new benchmark for video game expos in 2023 and beyond.
How they're going to be "recognizably epic" without any major platform holder in attendance is anyone's guess, though ReedPop did say in a statement to IGN that:
As we spent much of 2022 refining how E3 2023 would take shape, reflecting on the feedback we solicited, we did not send a single contract to an exhibitor until the start of this month. We have received a tremendous amount of interest and verbal commitments from many of the biggest companies in the industry, and when we are ready to announce the exhibitors we are confident it will be a lineup that will make the trip to Los Angeles well worth it for the industry and consumers alike.