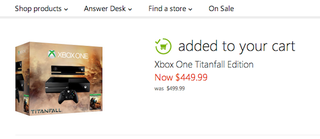 The Xbox One Titanfall bundle is now $450 on Microsoft's store—joining retailers like Walmart and Target in offering a $50 discount on the newest Xbox—but don't call it a price cut. Microsoft says the deal isn't permanent.
Here's Microsoft's official statement to news outlets including Kotaku:
This is not a price drop on Xbox One. The Microsoft retail stores often set prices and run promotions in line with the rest of the retail industry, ensuring that its customers always get a good value for the devices and services purchased from the stores. The current online and physical Microsoft retail store price is not reflective of an MSRP price drop on Xbox One, which is still priced at $499 USD.
(h/t ArsTechnica)