This is unreal. Microsoft's new policies seem to confuse more than they clarify.
Right at the bottom of one section of the big list of policies Microsoft just released for Xbox One is a little detail about how you'll be able to share games with your friends. Turns out you'll only be able to give out a game—we're talking about games that are on physical discs—once. And you won't be able to rent or loan games when the system launches.
Give your games to friends: Xbox One is designed so game publishers can enable you to give your disc-based games to your friends. There are no fees charged as part of these transfers. There are two requirements: you can only give them to people who have been on your friends list for at least 30 days and each game can only be given once.
Elden Ring's Top Five Spells, According To FromSoftWare's Stats
UPDATE: This story was originally titled "Xbox One Games Can Only Be Given To One Person. Ever," but as some readers have pointed out, "each game can only be given once" is a rather ambiguous term. Let's say Person A gives a game to Person B, and the game is removed from Person A's system and transferred to Person B. Can Person B then give the game to Person C? "Each game can only be given once" implies otherwise, but it's all very unclear.
We asked Microsoft for clarification. Their response: "The blog posts on Xbox Wire detail everything we can share today. We look forward to sharing more details in the months ahead."
The statement also seems to imply that publishers can disable your ability to give games. Whether we can buy and sell used games, Microsoft says, is also up to individual publishers.
G/O Media may get a commission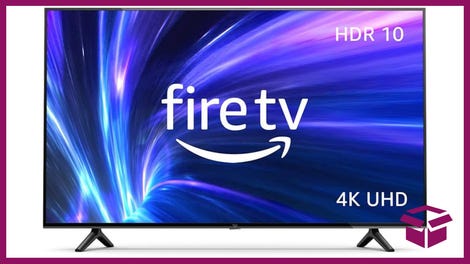 42% Off
Amazon Fire TV 50" 4K Smart TV
Another tidbit, from Microsoft's website: "Loaning or renting games won't be available at launch, but we are exploring the possibilities with our partners." What does that mean? Who knows?
As for how other companies handle this stuff, here's a point of comparison. This is how the Amazon Kindle handles book-lending (emphasis added by Kotaku):
Kindle books can be loaned to another reader for a period of 14 days. The borrower does not need to own a Kindle — Kindle books can also be read using our free Kindle reading applications for PC, Mac, iPad, iPhone, BlackBerry, and Android devices. Not all books are lendable — it is up to the publisher or rights holder to determine which titles are eligible for lending. The lender will not be able to read the book during the loan period. Books can only be loaned once, and subscription content is not currently available for lending.
And here's Steam:
What is a Steam Gift? When you purchase a game on Steam, we offer the option to "gift" the item to anyone you choose, whether or not the recipient is a current Steam user. The recipient will receive the gift as an attractive e-mail card with a personal message from you and instructions to redeem the game. A Steam gift purchase is a one-time transfer—after the recipient has activated and installed the game, it is a non-refundable game in his or her Steam games collection. Also note that you may only gift new purchases—you may not transfer games you already own. That'd be like wrapping up and presenting the toaster you've used every morning for the past year.

How can I deliver the gift at a later date? If you are interested in purchasing a subscription for someone as a gift but do not want it delivered until a later date, please purchase the game as a gift and add it to your Steam Inventory to send it later. As long as you do not redeem it, you will have a gift for this subscription on your account that can be resent at anytime.
Here's iOS, which doesn't allow giving but does allow other people to be on your account and use your stuff... maybe:
Your Apple ID can have up to 10 devices and computers (combined) associated with it. Each computer must also be authorized using the same Apple ID. Once a device or computer is associated with your Apple ID, you cannot associate that device or computer with another Apple ID for 90 days. You can view which devices or computers are currently associated, remove unused devices or computers, and see how long before they can be associated with a different Apple ID from the Account Information page in iTunes on your computer...


When you first acquire music iTunes Products and music video iTunes Products (collectively, "iTunes Auto-Delivery Content"), you may elect to automatically receive ("auto-download") copies of such iTunes Auto-Delivery Content on additional compatible iOS Devices and iTunes-authorized computers with compatible software by associating such iOS Devices and computers subject to the association rules below (each, an "Associated Device"). For each Associated Device, you may specify which type of iTunes Auto-Delivery Content, if any, may be auto-downloaded to it. On an Associated Device that is capable of receiving push notifications ("Push-Enabled"), including iOS Devices, the iTunes Auto-Delivery Content will auto-download to that Associated Device when it has an Internet connection; on an Associated Device that is not Push-Enabled, including those running on the Windows operating system, iTunes Auto-Delivery Content will automatically appear in the download queue and you may manually initiate the download within iTunes.

As an accommodation to you, subsequent to acquiring iTunes Auto-Delivery Content, purchased (i.e. not rented) movies iTunes Products and TV show iTunes Products (each, "iTunes Eligible Content"), you may download certain of such previously-purchased iTunes Eligible Content onto any Associated Device. Some iTunes Eligible Content that you previously purchased may not be available for subsequent download at any given time, and Apple shall have no liability to you in such event. As you may not be able to subsequently download certain previously-purchased iTunes Eligible Content, once you download an item of iTunes Eligible Content, it is your responsibility not to lose, destroy, or damage it, and you may want to back it up.