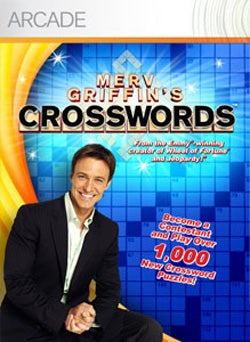 It's time for the final Xbox Live Arcade game of 2008, and they've saved the best for last, provided you are a big fan of crossword puzzles, game shows, or the works of Merv Griffin.
Merv Griffin's Crosswords is a game based off of a television game show created by Merv Griffin, deceased media mogul and television host. The show pit players against each other in a quiz-show format, with the answers to given questions filling in space in a crossword puzzle. Exciting? So exciting that the show is currently on hiatus and rumored as dead as its creator, but that won't stop your family from having non-stop fun with the Xbox Live Arcade version, now will it?
It does have more than 1.000 puzzles, plus online multiplayer for 2-5 players, so it could be an interesting diversion for the more casual player at 800 Microsoft points. Just seems like a bit of a let down. What's a four-letter word for something very disappointing?