In the original Work and Play, we posted a collection of photos of game developers and journalists' desks and game setups from around the world. We are thrilled to be revitalizing this project in our new gallery system with several new additions.
On Wednesday, Crecente posted a gallery of developers and industry insiders. Today, we continue that trend by showing you the workspaces and homes of those who bring us our video game news on a daily basis – video game journalists.
With more than ten game sites and blogs participating, you will be able to see the offices and living rooms of journalists at IGN, Destructoid, BoingBoing, and even some of our own Kotaku editors.
We hope you enjoy the gallery!
G/O Media may get a commission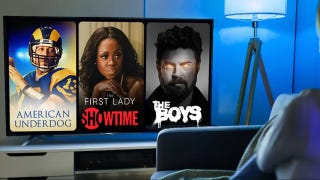 UNDER $1
99¢ Prime Video Channels
Blues News: Stephen "Blue" Heaslip's game room.

Blues News: Stephen "Blue" Heaslip's office

BoingBoing (Former): Joel Johnson's office

BoingBoing (Former): Joel Johnson's office

BoingBoing: Xeni Jardin's laptop

BoingBoing: Xeni Jardin's laptop

BoingBoing: Xeni Jardin's desk

BoingBoing: Xeni Jardin's desk

Destructoid: editor-in-chief Nick Chester's desk

Destructoid: editor-in-chief Nick Chester's game setup

Destructoid: editor-in-chief Nick Chester's desk

Destructoid: editor-in-chief Nick Chester's game setup

Destructoid: editor-in-chief Nick Chester's game setup

Destructoid: editor-in-chief Nick Chester's desk

Destructoid: founder, robot, Yanier "Niero" Gonzales' desk

Destructoid: founder, robot, Yanier "Niero" Gonzales' work area

Destructoid: founder, robot, Yanier "Niero" Gonzales' work area

Destructoid: founder, robot, Yanier "Niero" Gonzales' game setup

Destructoid: founder, robot, Yanier "Niero" Gonzales' play area

Destructoid: founder, robot, Yanier "Niero" Gonzales' amazing view

Destructoid: founder, robot, Yanier "Niero" Gonzales' game setup

Destructoid: founder, robot, Yanier "Niero" Gonzales at his desk

Bitmob: Dan "Shoe" Hsu's office (EGM 2008)

Bitmob: Dan "Shoe" Hsu's office (EGM 2008)

Bitmob: Dan "Shoe" Hsu's desk (EGM 2008)

Bitmob: Dan "Shoe" Hsu's home

Bitmob: Dan "Shoe" Hsu's home

The Escapist: Russ Pitts' desk

The Escapist: Russ Pitts' living room

The Escapist: Russ Pitts' battle living room

The Escapist: Russ Pitts' console

The Escapist: Susan Arendt's desk (GameLife 2008)

The Escapist: Susan Arendt's home

IGN's Demo Room

IGN's Demo Room

IGN's Demo Room

IGN: senior vice president and editor Peer Schneider's movie and game room

IGN: senior vice president and editor Peer Schneider's movie and game room

IGN: senior vice president and editor Peer Schneider's movie and game room

IGN: senior vice president and editor Peer Schneider's movie and game room

IGN: senior vice president and editor Peer Schneider's living room

IGN: senior vice president and editor Peer Schneider's movie and game room

IGN: senior vice president and editor Peer Schneider's living room

IGN: PlayStation team editor Greg Miller's desk

IGN: PlayStation team editor Greg Miller's desk

IGN: Nintendo team editor-in-chief Matt Casamassina's gameroom

IGN: Nintendo team editor-in-chief Matt Casamassina's swivel mount TV

IGN: Nintendo team editor-in-chief Matt Casamassina's living room

IGN: Nintendo team editor-in-chief Matt Casamassina's living room

IGN: Nintendo team editor-in-chief Matt Casamassina's game room, Wii accessories

IGN: Nintendo team editor-in-chief Matt Casamassina's game room

IGN: Nintendo team editor-in-chief Matt Casamassina's bedroom

IGN: Nintendo team editor-in-chief Matt Casamassina's living room

IGN: Nintendo team editor-in-chief Matt Casamassina's game room

Crispy Gamer: Kyle Orland's game room

Crispy Gamer: Kyle Orland's office

Crispy Gamer: Harold Goldberg's shelves

Crispy Gamer: Harold Goldberg's shelves

Crispy Gamer: Harold Goldberg's game room

Kotaku: correspondent AJ Glasser's favorite blogging spot

Kotaku: correspondent AJ Glasser's console setup

Kotaku: correspondent AJ Glasser's PC setup

Kotaku: senior contributing editor Brian Ashcraft's home system (2008)

Kotaku: senior contributing editor Brian Ashcraft's office (2008)

Kotaku: editor-in-chief Brian Crecente's home setup: right side

Kotaku: editor-in-chief Brian Crecente's home setup: left side

Kotaku: editor-in-chief Brian Crecente's office shelves

Kotaku: editor-in-chief Brian Crecente's office desk

Kotaku: editor-in-chief Brian Crecente's office desk right side

Kotaku: editor-in-chief Brian Crecente's home setup: bar

Kotaku: editor-in-chief Brian Crecente's office desk: left side

Kotaku: editor-in-chief Brian Crecente's home setup: lounge

Kotaku Alumni: Flynn De Marco's game room

Kotaku Alumni: Flynn De Marco's office

Kotaku: contributing editor Luke Plunkett's desk (2008)

Kotaku: contributing editor Luke Plunkett's game room (2008)

Kotaku Alumni: Maggie Greene's desk

Kotaku Alumni: Maggie Greene's game room

Kotaku: contributing editor Michael Fahey's desk

Kotaku: contributing editor Michael Fahey's game room

Kotaku: deputy editor Stephen Totilo's Office (MTV 2008)

Kotaku: deputy editor Stephen Totilo's desk (MTV 2008)

Kotaku: deputy editor Stephen Totilo's game room (2008)

Kotaku: deputy editor Stephen Totilo's office

Kotaku: deputy editor Stephen Totilo's game room

Kotaku Alumni: Tori Floyd's desk

Kotaku Alumni: Tori Floyd's game setup

Penny Arcade: writer and Tycho Brahe alter ego Jerry Holkins' desk

Penny Arcade: writer and Tycho Brahe alter ego Jerry Holkins' desk

Penny Arcade: artist and Gabe alter ego Mike Krahulik's game room

Penny Arcade: artist and Gabe alter ego Mike Krahulik's office

Massively: Michael Zenke's desktop setup

Massively: Michael Zenke's gaming room

VE3D (Former): Robert "Apache" Howarth's game room

VE3D (Former): Robert "Apache" Howarth's office

Gamasutra news director and Kotaku columnist Leigh Alexander's game setup

Gamasutra news director and Kotaku columnist Leigh Alexander's home

Gamasutra news director and Kotaku columnist Leigh Alexander's cat and computer

Gamasutra, Game Developer Magazine, and GameSetWatch publisher Simon Carless' home office

Gamasutra, Game Developer Magazine, and GameSetWatch publisher Simon Carless' office

Gamasutra, Game Developer Magazine, and GameSetWatch publisher Simon Carless' office