Wonder Woman is the most popular super-hero no one seems to like very much. She doesn't get movies, can barely sell a comic book. Today, she's been given a new outfit.
Tapping into the fact that one of the most loved elements of Wonder Woman lore is the fact that she sometimes flies an invisible plane, her DC Comics makeover artists have decided that, darn it, her costume, at least, needs to make sense.
And, more nobly, it needs to be less trashy.
It reflects her origins in both the outside world and the world of Amazons: tough, elegant…a street-fighter's look which also incorporates elements of her classic design. It reflects the two sides warring for ultimate victory, and underscores the path she must take.

It's a look designed to be taken seriously as a warrior, in partial answer to the many female fans over the years who've asked, "how does she fight in that thing without all her parts falling out?") She can close it up to pass unnoticed…open it for the freedom to fight…lose the jacket or keep it on…it has pockets (the other fan question, "where does she carry anything in that outfit?", it can be accessorized…it's a Wonder Woman look designed for the 21st century. The bracelets are still there, but made more colorful, tied on the inside and over the hand, with a script W on each of them that form WW when she holds them side by side…and if you get hit by one of them, it leaves a W mark. This is a Wonder Woman who signs her work…letting her enemies know that she's getting closer.
What's the over/under on how long this look lasts and whether it even shows up in video games like DC Universe Online? Electrified blue Superman only lasted about a year.
The new Wonder Woman look appears in the heroine's Wonder Woman #600, on sale today.
G/O Media may get a commission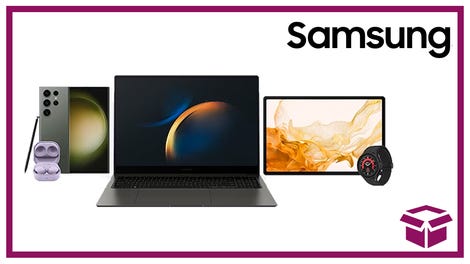 24 hour deals
Discover Samsung - Daily Deal