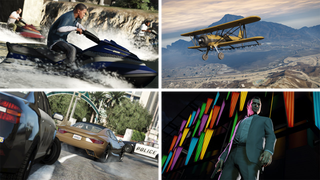 Jetskis! Biplanes! Burning helicopters! Pyschopaths! Hey, maybe it's not at E3 and it's not on PlayStation 4 or Xbox One, but Rockstar Games didn't want you to forget about Grand Theft Auto V, so here are nine more screenshots to pick apart.
No, really. That's all I got. Here they are.
To contact the author of this post, write to owen@kotaku.com or find him on Twitter @owengood.