Certainly none of this week's new games! While plenty of new titles hit Japan this past week, none of them came within spitting distance of Dragon Quest IX's continued strong sales. Only next week will we see a real challenger.
That's when Monster Hunter 3 for the Wii will arrive at Japanese game retailers, a software boost that the Wii could really use overseas. It ships this weekend, actually. Expect sales to be strong, possibly better than next week's DQ IX performance, but we'll be interested to see how the two games match up in the long run.
Anyway! Back to this week. New Nintendo DS games represented well in the top ten, with the latest Katamari release moving enough units to secure a top spot. The rest of the new debuts are things we'll likely never see in North America. But, hey, there's Punch-Out!!, managing to land at 17th.
The top thirty bestselling games in Japan for the week of July 20th to the 26th, courtesy of Media Create is below.
01. Dragon Quest IX (DS) - 270,000 / 3,202,000
02. Tomodachi Collection (DS) - 74,000 / 428,000
03. Wii Sports Resort (Wii) - 74,000 / 763,000
04. Penguin no Mondai x Tenkuu no 7 Senshi (DS) - 43,000 / NEW
05. Okaeri! Chibi-Robo! Happy Richie Oosouji (DS) - 35,000/ NEW
06. Katamari Tribute (PS3) - 28,000 / NEW
07. Katekyoo Hitman Reborn! DS Flame Rumble X (DS) - 28,000 / NEW
08. Pro Yakyuu Spirits 6 (PS2) - 22,000 / 72,000
09. Pro Yakyuu Spirits 6 (PS3) - 21,000 / 95,000
10. Monster Hunter Portable 2nd G (the Best) (PSP) - 18,000 / 818,000
G/O Media may get a commission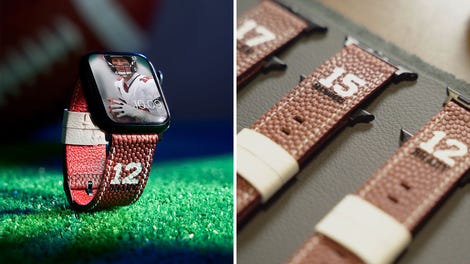 Official NFL PRODUCTS
Official NFL Apple Watch Bands
11. Boku no Natsuyasumi 4: Seitouchi Shounen Tanteidan, Boku to Himitsu no Chizu (PSP)
12. Miku Hatsune Project Diva (PSP)
13. Dragon Ball: Tenkaichi Daibouken (Wii)
14. Moyashimon DS (DS)
15. Pokémon Platinum (DS)
16. Wii Fit (Wii)
17. Punch-Out!! (Wii)
18. Mario Kart Wii (Wii)
19. Toro to Morimori (PS3)
20. Kingdom Hearts 358/2 Days (DS)
21. Sloane to MacHale: Nazo no Monogatari (DS)
22. Taiko no Tatsujin Wii (Wii)
23. Rosario to Vampire Capu 2: Koi to Yume no Kyousoukyoku (PS2)
24. Mario Kart DS (DS)
25. Mario & Luigi RPG3!!! (DS)
26. Ys I & II Chronicles (PSP)
27. New Super Mario Bros. (DS)
28. Narisokonai Eiyuutan: Taiyou to Tsuki no Monogatari (PSP)
29. Pokémon Fushigi no Dungeon: Sora no Tankenta (DS)
30. Blazing Souls Accelerate (PSP)