Who makes a game? And where do they go when it's over? For approximately 150 people who worked on Prince of Persia: The Sands of Time, the answer to the latter question can range from staying at Ubisoft to going indie to becoming a wedding photographer.

It's easy to assign credit for a popular video game to just a few public-facing people like directors or producers, but major games can have hundreds of people working on everything from the skyboxes to the movement of character around the world. The exact list of people working on games isn't static either, with developers joining and leaving production as the months go on. Many things could pull people off a project— a better job at another company, perhaps, or plain old burnout. On the other hand, as the release date gets closer, the game might drag over people who were working on different projects at the studio.
At Ubisoft Montreal, these kind of moments happened often during the development of Prince of Persia: The Sands of Time. The reboot of Jordan Mechner's classic series, which released in late 2003 after 27 months of development, started out with a team of 7. This team grew to 65 at its largest, with well over 150 people working on the game. There were groups working on art, programming, sound, cinematics, and more. After looking at the credits and tracking down the latest whereabouts of 93 of these developers (I excluded management, external studios, and testers), I've gathered statistics about who some of these developers are and what they've done in the 15 years since Sands of Time's release.
The first Prince of Persia, developed almost in its entirety by Mechner for the Apple II in 1989, was all about movement. Mechner motion-captured his brother running and leaping, and rotoscoped the animation into the game to create the Prince's graceful gait. But the series initially struggled with the shift from 2D to 3D, largely because it didn't know how to make movement fun with polygons. The first attempt, Prince of Persia 3D, felt clunky with its sluggish controls and camera.
G/O Media may get a commission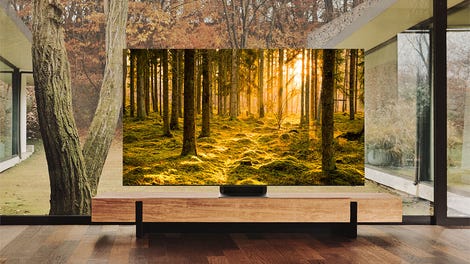 Up to 40% off
Samsung Smart TVs
After Ubisoft acquired the rights to the series in 2001 (in a package deal with games like Myst, Chessmaster, and Petz), its Montreal development studio got to work on another 3D version, bringing on Mechner as a consultant. Ubisoft Montreal decided there was, in fact, a way to do movement right in a 3D world. The Prince became more mobile, running along walls and leaping from pillar to pillar with ease. There were still pits of death, but now instead of reloading a checkpoint the game could just be rewound to give the player a second (or third) chance.

Combining that innovative gameplay with beautiful art and level design, Sands of Time was a hit. At that year's DICE Awards, the game got a then-record 13 nominations for everything from its art to animation to programming. It would go on to sell over 14 million copies in the years after its release. For a time, the series became a mainstay in Ubisoft's lineup. The following year brought a sequel, and the year after a third game and a spin-off.

But these sequels would not be made by the exact same people. While a majority of the Sands of Time staff did work on the sequel Prince of Persia: Warrior Within, over 40 percent left for something else. Over the years, development of Prince of Persia would shift over to series like Assassin's Creed, and Ubisoft Montreal would start work on more and more projects, splitting apart the team.
Today, Ubisoft Montreal is a behemoth of a company. The studio spent its first few years working on licensed games for companies like Playmobil and Disney after it was founded in 1997. It soon started to focus on more hardcore games like Splinter Cell, growing rapidly as it did. By 2006, more than 1,400 people worked in the Montreal offices with the studio working on series like Far Cry and Assassin's Creed. 2006 was also when Yannis Mallat, a game producer, took over as the studio's CEO.

Mallat joined the company in 2000 as his first job in the video games industry. After working as a producer on games like Little Nicky and The Emperor's New Groove, Mallat got the chance to help shape the revival of Prince of Persia. After COO Martin Tremblay left Ubisoft Montreal in 2006, Mallat took over with an objective: Become the number one studio in the world. In the 12 years since taking over, Mallat has grown Ubisoft Montreal even more, and today over 3,000 people work at the studio.
Even with thousands joining the studio, a large number of senior employees have stayed. A little over 40 percent of the people who worked on Sands of Time still work for Ubisoft as of 2018. Nathalie Dubois, a generalist programmer, is one of these people. Dubois joined Ubisoft as a tools programmer in 1999 shortly after graduating college. In 2008, after working as a programmer on Warrior Within and Assassin's Creed, Dubois became a lead on Assassin's Creed 2, Brotherhood, and 3. In the last few years, Dubois has worked on Far Cry 4 and 5, and is currently working on an unannounced game.
Other people who stayed at Ubisoft moved across the world to work at different studios. Claude Langlais, lead programmer on Sands of Time, joined Ubisoft in 1999 as his first job in the industry. After leading a cancelled project in 2001, Langlais joined Sands of Time, where he helped build the prototypes and team. After next working on Assassin's Creed, Langlais moved to Singapore when a studio was established in 2008. There, Langlais has worked as a technical director for the past decade, and is currently working on Skull and Bones.

As Ubisoft Montreal grew, other video game studios started popping up in the Canadian city. Bethesda, Electronic Arts, and Square Enix were just some of the companies that established one or more studios there. Montreal's game scene grew, and today holds over 70 different studios. To staff some of these studios, companies recruited Ubisoft Montreal employees.
This happened most famously with Patrice Désilets, the creative director of Sands of Time. After Sands of Time, Désilets started leading a team on a spinoff of the series. Instead of playing as a prince, you would play as a bodyguard for a young prince. As the concept advanced, the game turned into Assassin's Creed. After the release of Assassin's Creed 2, Désilets left Ubisoft and a year later started work at the newly-formed THQ Montreal on the unreleased game 1666 Amsterdam. At the end of 2012, THQ declared bankruptcy and sold off its assets. The Montreal studio was bought by Ubisoft, but Désilets didn't stay. Later in 2013, Désilets was fired by Ubisoft and escorted out of the company, leading to him suing Ubisoft and getting the rights to 1666 Amsterdam in 2016. In 2014, Désilets founded a new studio, Panache Digital Games, which is currently working on the Take-Two published Ancestors: The Humankind Odyssey.
Moving around the video game industry is fairly common, with 25 percent of Sands of Time developers now working at another studio. Yannick Bergeron, a senior animator, left Ubisoft at the end of 2005 to join Treyarch in Santa Monica. Bergeron moved to KAOS Studios in 2009 as a lead animator before leaving the following year. The next few years, Bergeron jumped around the industry more, going from Wendigo Studios in 2010 to Code18 (which he co-founded) in 2011 to Bloobuzz in 2012. At the end of 2014, Bergeron started doing contract work for Eidos Montreal and in 2015 joined fulltime as a senior animator.
Bergeron was one of many who tried forming their own smaller studios. Celine Tellier, a 3D modeler, left Ubisoft in 2013 to become CEO of Wild Sheep Studios, which is currently working on the Michel Ancel-directed game Wild. One of the most prominent of these studios is Red Barrels, which was founded by David Châteauneuf and Philippe Morin, who were lead level designer and in-game cinematics / camera and visions lead. After Sands of Time, the two worked on Assassin's Creed (with Morin working on the canceled PlayStation 2 version of the game) before Morin left in 2005 to join Naughty Dog to work on Uncharted. Two years later, Morin returned to Ubisoft, but in 2009 left again to join EA Montreal. Châteauneuf joined Morin in early 2010 to work on an original game led by Hugo Dallaire.

The game was soon canceled, and a few months later Châteauneuf and Morin, along with Dallaire, quit. The three started a new company and decided to go into horror. Châteauneuf and Marin had been trying to make a horror game for years and alongside a small team started work on Outlast. The game was a success when it released in 2013 and 2017 the studio released a sequel.
Modern AAA games need a lot of people, which is why contract work and support studios are common. Seven Sands of Time developers went this path, including David Giraud, character artist. Giraud joined Ubisoft Montreal in 2000. This would be the first time he joined the company, but not the last. After leaving in 2003 to join IO, Giraud rejoined Ubisoft in 2005 before leaving in 2009 to join EA Montreal. Near the end of 2010 Giraud joined THQ where he worked until its absorption into Ubisoft in 2013. After leaving Ubisoft for a third time in 2014, Giraud has worked freelance creating sculptures for companies like DC Comics. Since 2016 he has worked at Volta, which is a support studio that has worked on games including Street Fighter V, For Honor, and Mass Effect: Andromeda.
Some people jump between industries. Jordan Mechner, who created the series, went on to help turn the game into a movie in 2010. Lately, he's done everything from working on remake of his games to writing a graphic novel. Stuart Chatwood, composer, worked on the music for seven Prince of Persia games and Darkest Dungeon, but mostly has been working with his band The Tea Party.
Many who left Ubisoft end up coming back. Currently there are 10 Sands of Time developers who are at Ubisoft after leaving in the past. Raphael Lacoste, art director, worked as an art director for games like Assassin's Creed before leaving in 2007. Lacoste next worked on movies like Terminator Salvation and Repo Men before returning to Ubisoft in 2010. He is currently franchise art director for Assassin's Creed and posts some of his concept art (both personal and professional) on his website.

Finally, there are those who left the video games industry. 17 of the developers have left the industry completely. The most common job is film (Montreal also has a large special effects industry including Hybride which Ubisoft owns), with a majority of the cinematics team following that path. Other jobs that some of the people have left the gaming industry for include banking and engineering for companies working in commercial vehicle manufacturing, and automotives. Ned Mansour, special effects technical director, became a wedding photographer. Julie Cossette, an additional 3D modeler, started drawing art for childrens' books.
A decade and a half later, a majority of the team is elsewhere. Around 60 percent are gone out in the world, and that split up seems to be the natural way of things in gaming. Only 32 percent of the team who made Knights of the Old Republic are still at Bioware, for example, while 13 percent of the team that made Metroid Prime are still at Retro. Each name in the credits is a person, and each person has a story. There's stories of success and failure mixed together in the credits of every game. Some people listed have been in the industry for decades, and some are just finishing their first game. Some will go and climb the ranks, while others will stay in the same job.
Forest Lassman is a writer from Kansas. He listens to over 50 podcasts each week, which is probably unhealthy.