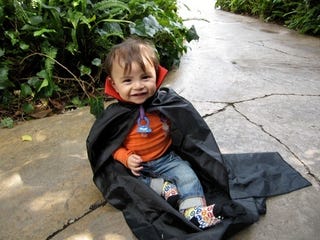 To: Crecente
From: Bashcraft
RE: Blizzard
Mini-Bash is dressing up as Dracula, and I'm dressing up as... Well, I'll be putting on actual clothes that day, like the kind you wear outside! Working at home has made my wardrobe comfortable.
Pictured, is Mini-Bash's baby brother, Micro-Bash sporting a cape. Why don't people wear capes anymore? Capes are awesome.
Oh! For those who live in San Francisco, game translator/book writer/awesome dude Matt Alt is giving a presentation on yokai. More info right here.
What you missed last night
What Would The DS Look Like With a Four Inch Screen?
Watch Modern Warfare 2 Gameplay [Spoilers!]
New Super Mario Bros. Wii Dated For North America
Even Kojima Productions Staffers Want To Make A New Z.O.E.
Adult Video Maker Loves Bayonetta