Like... Mint? - It's good to see that they still have comics at Comic-Con (Photo by Frazer Harrison/Getty Images)
When video games call for criminal behavior, I try to portray the bandit with a heart of gold. Running innocents off the road delivers neither a thrill nor a punchline in something like Grand Theft Auto. More »
---
G/O Media may get a commission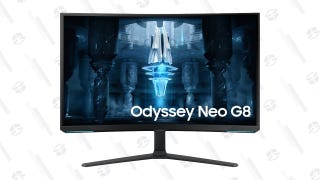 Samsung 32" Odyssey Neo G8 Curved Gaming Monitor
Nintendo's still making a Zelda and a Kirby for the Wii. Ubisoft is still seeping Just Dances the way a man produces sweat on a hot summer day. But it seems these days that most companies making games just don't care about making Wii games anymore.
What a shock it was last week to find a young... More »
---
The most terrifying all animal band in history is finally getting the recognition it deserves. The Registry of Historic Gaming locations is adding the site of the original Chuck E. More »
---
Appropriately named commenter Tengen Toppa Duck Face has a craving for video games based on collectible card games, but his experience is limited to Yu-Gi-Oh! and Pokémon. More »
---
The zombie strain that strikes the vacationers on Dead Island is so virulent that even advertising the game results in a full-on undead plague, as European PlayStation Home users will discover shortly before the game launches in September. More »
---
Anders Behring Breivik was a likable loner, a seemingly harmless Norwegian who masked his sudden disappearance from society to prepare for the biggest single-handed massacre in recent history with a modern affliction: More »
---
First Russian President Dimitri Medvedev joined Twitter. Next he visited Twitter and Apple HQs. Now he's suggesting that someone make a World of Warcraft knock-off to teach about his country's history.
I'm starting to like this guy.
"I've checked what's our youth are playing with, and most games... More »
---
Catch the 3D animated movie Tekken: Blood Vengeance in theaters before it hits the PlayStation 3 as part of Tekken Hybrid, as long as you've got tomorrow night free and it's playing at a theater near you (thanks, Ed!). More »
---
The National Football League's players approved a deal with the league owners this afternoon, ending a four-month lockout that had threatened the regular season and cast a shadow over development of one of the NFL's signature licensed products, EA Sports' Madden NFL. More »
---
Our technology has progressed past the age of TV monitors that curve the corners of our video game graphics. Scan lines are a thing of the past.
But how beautiful a modern game looks when it takes the visual flaws of 80s arcade games and celebrates them as artistic effects.
Take a look at the... More »
---
---
We like tips!
Got tips for our editors? Want to show the world your latest creation? Ready to anonymously share an unannounced game? Email us at tips@kotaku.com. Or leave us an anonymous voicemail at (612) 568-2581.
Want a different layout?
Click here for the Speak Up or Tips forums. Want a more "blog-like" look? Click the button up top next to "Top Stories."
Get more Kotaku!
Want even more Kotaku? Want to know which of your friends read us? "Like" us on Facebook and follow us on Twitter.