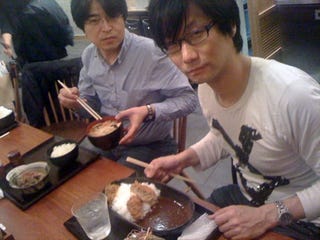 Metal Gear makers Kojima Productions have been riding the Twitter bandwagon since September of last year, but the developer's interest in providing 140 character length updates has been sporadic at best. No longer!
The Konami subsidiary, ramping up enthusiasm for the upcoming Metal Gear Solid: Peace Walker for the PSP, has been on something of a tweet frenzy lately, offering an inside peek at the inner workings of Kojima Productions. Want to know what kind of curry Metal Gear creator Hideo Kojima craves? Follow kojima_pro now!
You'll get a fascinating inside look at moments like these, in which Kojima feasts upon mini bundt cakes and exhibits the symptoms of an intense Peace Walker hangover. The type of moments we live for are here.
Obviously we expect the ride to be more right-click-save-as amusing than informative, but we would advise the serious Metal Gear Solid fan to follow along with us.
Kojima Productions [Twitter]