Slated to helm Spider-Man 4, director Sam Raimi walked away from the project earlier this year. He is currently working on something that could very well be bigger. Much bigger.
It was made public last summer that Sam Raimi has signed on to bring Blizzard's massively multiplayer online game to the silver screen as "Warcraft". In late 2008, Raimi expressed interested in World of Warcraft saying it would make a "brilliant movie".
In a recent interview, Raimi has provided an update on the Warcraft picture.
"It's still a long ways away," says Raimi. "It's only a 40 page story." Raimi has brought in scribe Robert Rodat to pen the screenplay. Rodat is best know for writing Saving Private Ryan and The Patriot.
G/O Media may get a commission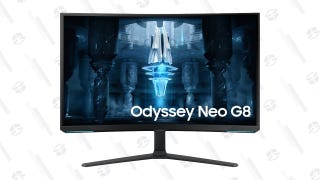 Samsung 32" Odyssey Neo G8 Curved Gaming Monitor
We're finding the characters, and through the characters we are finding the story," says Raimi. "We're just trying to create realistic characters that can live in the World of Warcraft as if you were in the game itself in one or two of those environments and see the interaction of those great, mythic iconic characters."
Raimi explains that visual world Blizzard created has drawn him into the project.
"I love the visual world that the guys at Blizzard have created. It's incredibly, engrossingly terrifying and exciting. And I like their use of scale, the giant monsters they have. I love the different landscapes that your character can move through. I like the first person interaction you have with other players online. There are so many aspects about the game that I really enjoy — like the battles, doing sword battles. I like performing spells, learning new spells and getting to the next level like everyone else." He gushes that he "loves" the game.
The director recounts a story of his Level 29 Shaman that was accidentally deleted. "And now," he adds, "I've worked a new character up to 71 — 72, sorry." He says he's not into power leveling — that is a Level 72 he did himself. "I've spent that many days in The World of Warcraft."
But will this movie be all in the world or will it have people playing Warcraft characters?
"It would be taking place within the World of Warcraft," says Raimin. "It's all in the world." And it is such a huge world! It must be a daunting task trying to bring it to live in movie form.
"There are so many characters in the game. Trying to pull most exciting and different characters. "It is so overwhelming. You know, it really is a world. A universe — worlds, in fact. And so many characters and so many different professions, I don't think we could touch upon them satisfactorily. So we are trying to chose the ones that are interesting and could play a part in a drama that is slowly developing."
Sam Raimi Interview WORLD OF WARCRAFT Movie, Oz, The Hobbit Saturn Awards 2010 [Collider]