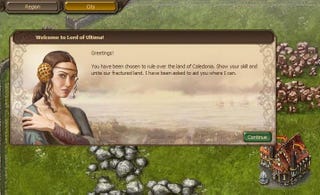 EA released some screenshots of browser-based Lords Of Ultima overnight. We were quite surprised to find Natalie Portman reprising her role from the Star Wars prequels.
Above is a screenshot from Lords Of Ultima showing your advisor at the very outset of the game.
Below is Portman in her Padmé Amidala costume from Attack of the Clones.
Hmm… I don't think we're stretching, do you?
We're guessing all the advice you'll be hearing in Lords Of Ultima will be along the lines of: "My place is with my people" or "The Federation has gone too far this time."
[Thanks to Lord Seafood for the tip!]
This post originally appeared on Kotaku Australia.