One of the most striking elements of the Gears of War 3 trailer wasn't the tentacle monster, the female soldier or even the facial hair. Instead, it was the haunting music. What was the name of that song?
The tune is "Heron Blue" by folk rock group Sun Kil Moon, the current act from Red House Painters frontman Mark Kozelek. Named after a Korean boxer, Sun Kil Moon has lent its music to feature films like Steve Martin's Shopgirl and Friday Night Lights, the big screen version of the book by the same name.
Sun Kil Moon's albums include Ghosts of the Great Highway, Tiny Cities and April — not to mention various EPs.
Not only does this trailer bring closure to a trilogy of Gears of War games, but a trilogy of Gears trailers with incongruous music: The first game's trailer sports a cover of "Mad World" by Tears for Gears Fears and the second one featured "How It Ends" by DeVotchKa.
G/O Media may get a commission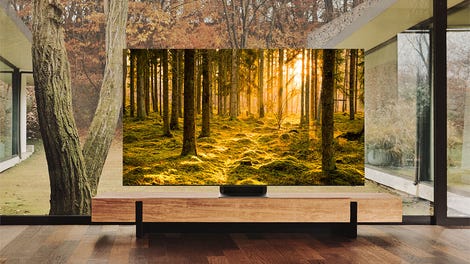 Up to 40% off
Samsung Smart TVs
So sensitive.
According to Microsoft, the new Gears of War 3 "Ashes to Ashes" trailer was created in the Unreal Engine 3 by the same team that created the "Mad World", "Rendezvous" and "Last Day" video spots.