Today the Xbox One got a second chance to make a better impression following a May debut that, by any objective measure, went light on games. At E3 2013, Microsoft took pains not to repeat the mistake, rolling out a 90-minute pastry cart of game after game after game.
Happy now? Or not?
With more to come once E3's showfloor once it opens tomorrow, here's a rundown of the news from Microsoft's E3 keynote.
It's $499 and It Launches in November
That's €499 on the Continent, £429 in Great Britain. It's gonna be on store shelves in November, but a specific date was not given. GameStop is taking preorders and shipping consoleson Nov. 21. Amazon also is taking preorders but says "the item will be released on November 30, 2013." If you're in an office pool, you have a one-in-ten chance of correctly guessing the release date.
G/O Media may get a commission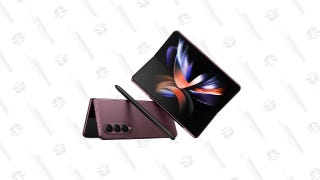 Save Up to $300
Galaxy Z Fold4
Yes, Of Course, It'll Have Halo
343 Industries reappeared to say that Xbox One will be getting Halo—playable Halo, not the TV Halo they talked about back in May. Release date is unknown. It got a snazzy trailer.
Microsoft Points are Dead
Once the console launches, Microsoft's hated funny money, the Microsoft Point, will be discontinued. All purchases will be done in your local currency. No word yet on what happens to any Microsoft Points held in reserve at the changeover date.
Here's That Xbox One Exclusive Everyone Already Knew About
It's Titanfall, the first game from Respawn, the studio helmed by the ousted founders of Call of Duty's Infinity Ward. A slip-up on Friday outed its name and some details. Here's the full trailer, which closed down the show. Spoiler alert: Mechs.
Ryse Looks Pretty Damn Good for a Former Kinect Game
Ryse: Son of Rome, from Crytek, got a tease at the May 21 reveal, and a very nice closeup today in Los Angeles. A little heavy on Quicktime combat, fans of ancient military tactics will enjoy fighting in phalanx and tortoise formations and barking out ye olde orders. It's an Xbox One exclusive.
Games, Games, Games, Games
What about the games, you said? Here, have Dark Souls II, Forza 5, D4 and Quantum Break. Metal Gear Solid V: The Phantom Pain opened the show with what may have been the best demonstration/trailer of them all.
There Were Some Awkward Moments
Crimson Dragon's trailer opened without any sound—as did Battlefield 4's. Probably the most cringe-inducing line came when a developer, showing off the Killer Instinct reboot, told his hapless female opponent to "Relax, just let it happen, it'll be over soon."
Xbox Live Subscribers Finally Get Some Free Games
Fable III is free starting today, with Halo 3 and Assassin's Creed II to follow. Then there will be two per month until the Xbox One launches. That's a dozen freebies by my count.
Dead Rising's Next Game is an Xbox One Exclusive
Kit-bashed weapons and zombie slaughter return, but only to the Xbox One. You can drive cars and call in artillery strikes this time, but both will still present a high degree of danger to your person.
What about the Xbox 360?
The old girl got a new look, right at the beginning of the show. The new design still costs the same as the old ones. And World of Tanks, the massively multiplayer conflict sim, will be a free download for Xbox 360 beginning this summer.
Finally: