To: Ash and/or Luke
From: Stephen
Re: Yes, I'd Love Another Pint Of Cider, Thanks For Asking

These Great Fortnite Creative Maps Show Us What's Possible
There's been a lot of mean talk about elevators lately. People saying they're happy they won't be represented in Mass Effect 2. People saying the game is better off without them.
It makes me mad. Or at least it made me mad, until I realized that I too have been shunning elevators. I used to ride them every day at my old job. I'd go up and down, up and down. Sometimes I'd even step out of them and get some work done. These days, I don't even see elevators. Not at the office. Not in my neighborhood.
Nowhere.
But today, I was in an elevator again. I was visiting my old job (MTV offices; Times Square). I had to pick up some stuff I'd left behind, which didn't include the hour-long video tape of me just sitting at my desk working .... I left that there. Seriously, it exists. For reasons lost in the fog of fading memory.
G/O Media may get a commission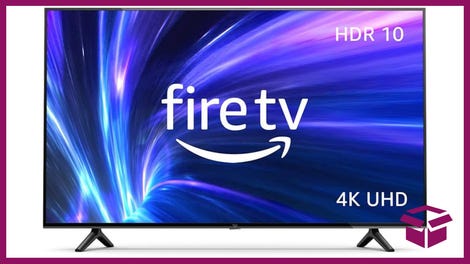 42% Off
Amazon Fire TV 50" 4K Smart TV
Anyway, so I'm on the MTV elevator with some other people. Some guy starts talking about PlayStation Home. He mocks it. Then he tells this story of Home trauma: He walked his avatar up to another Home avatar that looked .... just like his. Another white guy with a mohawk. Crazy! He says the two avatars just stood there, like, What were they going to do? "I needed to get a new skin!" my elevator companion said.
Seconds later, these fellow elevator riders were talking about Second Life. Someone else in the elevator (Interruption: It takes a while to get to the 29th floor, ok?) said that they didn't know what Second Life was.
Response from some other guy: "Second Life is this retarded thing. [pauses] Actually, it's a good idea really badly executed."
Then they got off the elevator, and I'll be damned if I didn't just learn something about gaming culture. Thanks to elevators.
Though I'm not sure what it is I learned. But I am sure it was, as just mentioned, thanks to elevators.
So let us love elevators.
By the way: The Door-Close button in elevators... actually works? Or psychological trick meant to calm impatient elevator riders?

What You Missed Today
Nintendo Lists Names And Dates For Wii, DS Winter 2010 Games Line-Up
iPhone Chart Toppers: Waldo? Where?
Heavy Rain Impressions: An Ambitious Sorrow
Borderlands' Randy Pitchford Takes Your Calls During This Week's Podcast
Girls Night With The Most Male Game Of 2009
Fingers-On Impressions Of R.U.S.E., A Real-Time Strategy Game Playable By Touch
Rock Band Wireless Wooden Fender Stratocaster Review: No Turning Back