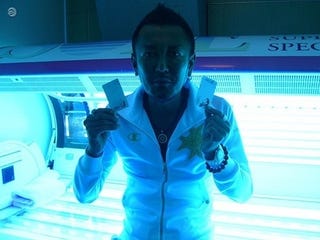 That's Toshihiro Nagoshi. He makes those Yakuza games and created Super Monkey Ball. Amazing tan aside, he's also just like 2.3 million other Japanese people.
Nagoshi purchased Dragon Quest IX. What does he think? He says it's easy to get into and the interface is good. "It's a much better match for handhelds than home consoles," he blogs.
In short, he adds, it's a "feel good" title, and a game he can learn from. How could you not believe a man that glows golden brown?
ドラクエ9 [名越稔洋オフィシャルブログ「とりあえず乾杯デショ。」]