A Stick and Six Buttons | One of the big honkin' custom controllers at last night's Soulcalibur V launch party in San Francisco.
---
Microsoft will upgrade its disc technology for its next Xbox from DVDs to Blu-Ray discs, catching up to rival Sony, games industry sources tell Kotaku. More »
G/O Media may get a commission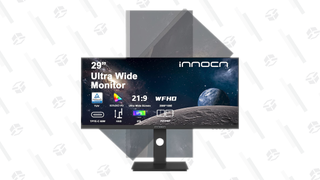 39% Off
Innocn 29" Ultrawide Computer Monitor
---
All my friend wanted was a simple, get-rid-of-it-on-Craigslist estimate for an original Xbox, two controllers, and about a dozen games. He knew that what he had was too common in its time, too obsolete in the present, to qualify as some latter-day Antiques Roadshow jackpot. More »
---
We're a little late reviewing Hori's official Mario Kart 7 Wheel peripheral, but I'm somewhat glad we are, thanks to some of the non-racing games I played with it on a whim. More »
---
Check out this test run of Space Cruiser, a video game that will be played by some 200 people on Thursday evening at New York City's American Museum of Natural History. More »
---
There's this thing about fighting games-you really have to play them. They're like a musical instrument, like a drum set; there's this whole physical level of interaction you have with them that goes beyond the input required in the average video game. More »
---
---
We like tips!
Got tips for our editors? Want to show the world your latest creation? Ready to anonymously share an unannounced game? Email us at tips@kotaku.com. Or leave us an anonymous voicemail at (612) 568-2581.
Want a different layout?
Click here for the Speak Up or Tips forums. Want a more "blog-like" look? Click the button up top next to "Top Stories."
Want to just read about video games?
Try KotakuCore and you'll get news and opinion about video games minus our coverage of gaming culture and the cultures with which gaming intersects.
Get more Kotaku!
Want even more Kotaku? Want to know which of your friends read us? "Like" us on Facebook and follow us on Twitter.