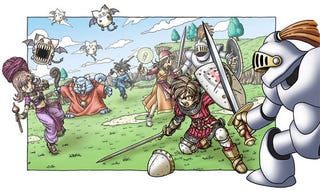 This extended holiday weekend, a slime will appear many times and I'll issue successive commands to deal with those slimes in Dragon Quest IX, a Nintendo DS game that (fingers crossed!) will appear at Kotaku Towers West.
I'll just say that it's been a while since my last Dragon Quest encounter, but I'm looking forward to getting back into the swing of things. My Nintendo DS will begrudgingly give up its cartridge slot—currently occupied by a copy of Picross 3D—for the game.
I'll work in a little Counter-Strike and maybe some Alan Wake, but that's about it.
What about your weekend gaming schedule? Anything particularly patriotic planned?