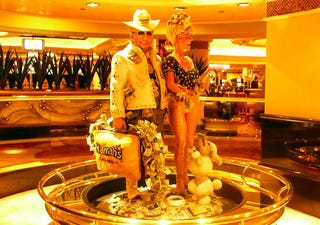 Since Brian and I will still be roaming the halls of CES and the casinos of Las Vegas this weekend, it's doubtful that I'll be playing much beyond games on the convention hall floor and quarter slots.
Of course, there are still some interesting games still left to be played by Team Kotaku at CES. I, for instance, have not yet played Splinter Cell Conviction and Mass Effect 2, but plan on doing so this weekend. Perhaps I'll even get in some Left 4 Dead 2, testing out some wacky new motion controller inappropriate for surviving a zombie apocalypse.
What about you, reader? Will you be gambling away your future children's college fund like me? Or do you have some good video gamin' planned? Place your bets in the comments.