This week's Nintendo Wii downloadables update balances two new and untested WiiWare games with the lesser of two Sonic the Hedgehog sequels.
These Great Fortnite Creative Maps Show Us What's Possible
Kicking things off this week is Bruiser and Scratch from Steel Penny Games (1,000 points), a WiiWare puzzler featuring a anthropomorphic dog and cat duo who find themselves teleported to a strange land where they must solve puzzles in order to get back to their forbidden love affair. Also on the WiiWare side of things we have Big Blue Bubble's Hockey Allstar Shootout (500 points), which transforms your Wii remote into a hockey stick for three skill challenges that are sure to put a strain on your remote straps.
For those who prefer more familiar ground, the Virtual Console gets Sonic the Hedgehog 2 today, but not the Genesis version of Sonic 2. No, this is the Sega Master System version of Sonic 2 (500 Wii Points), the cheaper, less pretty version of the game which also appeared on the Game Gear. Not the best week for Wii downloadables, but it beats a kick in the groin.
WII-KLY UPDATE: TWO WIIWARE GAMES AND ONE VIRTUAL CONSOLE GAME ADDED TO WII SHOP CHANNEL
G/O Media may get a commission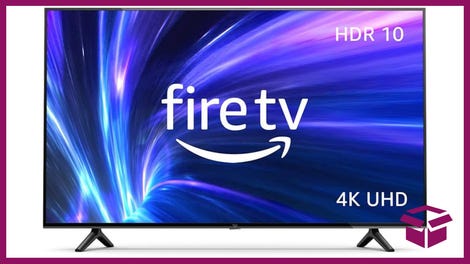 42% Off
Amazon Fire TV 50" 4K Smart TV
Dec. 8, 2008
Neither sleet nor snow nor ice-cold winter winds shall keep Wii™ Shop Channel users from enjoying the best new and classic games. In fact, this week's offerings include a hot new strategy-based puzzle game that promises to keep everyone in the household enthused, no matter how frightful the weather outside may be. Harrowing puzzles, hockey pucks and a world-famous hedgehog are all featured in the latest downloadable lineup, providing red-hot gaming thrills to counter the imminent December chills.
Nintendo adds new and classic games to the Wii Shop Channel at 9 a.m. Pacific time every Monday. Wii owners with a high-speed Internet connection can redeem Wii Points™ to download the games. Wii Points can be purchased in the Wii Shop Channel or at retail outlets. This week's new games are:
WiiWare™
Bruiser and Scratch (Steel Penny Games, Inc., 1 player, Rated E for Everyone, 1,000 Wii Points): Bruiser and Scratch are stranded in a strange world with a dark secret. Their only hope in finding a path home is to unravel the mystery of this place, one oversized puzzle at a time. Along the way, they make new friends and meet up with old adversaries, each of whom plays a role in their journey. Bruiser and Scratch offers a number of tutorial levels to bring the player up to speed gradually. The story unfolds over 48 puzzles and six landscapes. And for players who can't get enough, Challenge mode offers 75 additional puzzles that range from child's play to mind-bogglingly difficult.
Hockey Allstar Shootout (Big Blue Bubble Inc., 1-2 players, Rated E for Everyone, 500 Wii Points): Use the Wii Remote™ controller as a stick and take the shot as you compete in three exciting Hockey Skills Challenges. In Head 2 Head, it's just you versus the best goalies in the world in a five-puck shootout. Race against the clock to post the most goals in the fastest time. The three difficulty levels will place you against three increasingly talented goalies, each donning the jersey of their home country. In two-player mode, each player will take a turn as shooter and as goalie, and the player who scores the most goals in five shots is the winner. In Sharp Shooter, you post a high score in one of three difficulty levels by breaking as many targets as you can. Each time a shot fails to break a target, an X will appear in the upper left corner. Three misses and the game is over. Power Shot has you take your best shot and watch the Shot-Speed Clock light up. You have three attempts to blast the fastest shot you can, and only the best speeds will grace the high score list.
Virtual Console™
Sonic The Hedgehog™ 2 (SEGA MASTER SYSTEM, 1 player, Rated E for Everyone, 500 Wii Points): Play the popular Sonic The Hedgehog sequel, made specifically for the SEGA MASTER SYSTEM. Sonic returns home to his island just in time to see Dr. Eggman (a.k.a. Dr. Robotnik) run off with Tails. In fact, Dr. Eggman has kidnapped all of Sonic's animal friends and placed them in robotic mind-controlling suits. He demands the six Chaos Emeralds, hidden on the island, in exchange for their safe return. Explore underground mine shafts, dash through underwater tunnels and hang glide through the clouds in Sonic's search for the Chaos Emeralds. Once Sonic's found them all, he must face off with the evil Dr. Eggman and thwart his plan for global domination.
For more information about Wii, please visit wii.com.