Not all of the deals this weekend are doorbusters designed to get you to a brick-and-mortar location. If your butt remains fused to the living room couch, you can still get some value-added shopping done thanks to Kotaku Weekend Coupons.
Hardware
• The 120GB 360 Elite bundle that includes PURE and Lego Batman is yours with a free $50 gift card through Newegg, but only until the end of today. Free shipping, natch. [Dealzon]
• An alternative: You don't get the cash, but you do get the 250GB Elite Modern Warfare bundle, plus Left 4 Dead 2 through Amazon (for $399). That offer is good through Monday. [Dealzon]
• Ah, Radio Shack. How the f—k you stay in business, I don't know, but I've never gone a Christmas season without visiting you for some damn reason. Anyway, the offer ends today but PS3 controllers are $29.99 there, $10 better than the next best price. Free shipping. [Dealzon]
• Also from Amazon, a new DSi bundle (in white) comes with five Brain Age games for $154.98, which is $15 off the usual. [Dealzon]
G/O Media may get a commission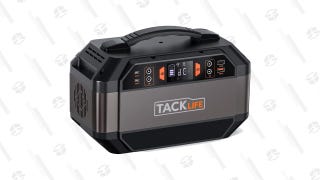 Tacklife Portable Solar Generator
Software
• Steam's "Five-Day-Long, One-Day-Only" sale will churn up values throughout the weekend, so be sure to check back. It looks like the offers reset at 9 a.m. U.S. Mountain time (aka right f—-ing now). Two $49.99 bundles, LucasArts and THQ, are on sale throughout. [Steam]
• GamersGate is likewise running its own Thanksgiving Sale with 30 to 65 percent discounts on a ton of PC titles [GamersGate]
• GameStop's doorbusters have expired (they were good for yesterday) but Left 4 Dead 2 is $39.99. Also, any Rock Band purchase gets you the AC/DC Track Pack - originally a Walmart exclusive - for free. [GameStop]
• Not mentioned in the flyer, but GameStop's three-for-two sale on used games and accessories is going on through tomorrow. The code B2G1FREE activates the sale online, and Cheapy points out the code SAVER gets you free shipping. [CheapAssGamer]
• Guitar Hero: Metallica? Sounds like a nice stocking stuffer, especially at $25, via Amazon. [TechDealDigger]
As always, smart gamers can find values any day of the week, so if you've run across a deal, share it with us in the comments.