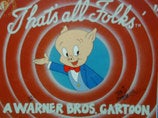 Welp. Ain't much releasin' this week. Looks like Burnout Paradise arrives for the PC, and if you want an arcade-style hockey game for 360, it comes to XBLM (PSN later). Everything else is shovel.
Tuesday (Feb. 3)
My English Coach (DS)
Phineas and Ferb (DS)
My World My Way (DS)
Ultimate Shooting Collection (Wii)
Burnout Paradise (PC)
Wednesday (Feb. 4)
3 on 3 NHL Arcade (360)
Ba-be-ba-da-be-ba-be-ba-da-that's all folks!