Microsoft announced Xbox One was getting Xbox 360 backwards compatibility at E3 this year, a feature everyone but Nintendo moved away from this hardware generation. We haven't heard much since, so we decided to ask a bunch of game publishers about some of their biggest games.
On Microsoft's Xbox Feedback page, it's possible for fans to vote for which games they'd like to see made backwards compatible. It's not a guarantee, but it does provide hope for those who'd like a chance to play Red Dead Redemption again. (In another dimension, there's a PC version!)
The biggest ones?
I scrolled through the list and took note of every game that has more than 5,000 votes. That doesn't cover every game people are hoping makes the cut—sorry, BlowOut at 71 votes—but it represents most of the major games people would like to play on their new Xbox hardware.
Of course, publishers aren't being asked to port their games to Xbox One. Microsoft is doing the heavy lifting here, having some up with a way to get the old games to run on new hardware. So while some games may get priority over others (see: Fallout 3 getting announced at E3 during Fallout 4's presentation), we thought it was worth checking in to see if discussions had started.
G/O Media may get a commission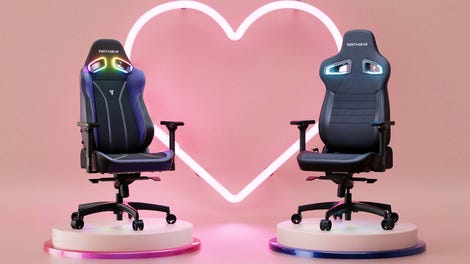 Up to $150 off
Vertagear Gaming Chairs
Square Enix
Some of the best games from last generation came out of the merged Square Enix and Eidos Interactive. Sadly, the company didn't have much to say, and pointed me towards Microsoft.
With Sleeping Dogs and Tomb Raider, the company has released updates for new platforms.
Just Cause 2
Tomb Raider
Hitman: Absolution
Deus Ex: Human Revolution
Final Fantasy XIII
Sleeping Dogs
Capcom
Technically, games like Resident Evil 4 as ports from an even earlier generation, which I feel might be creating a ripple in the time-space continuum.
"Nothing has been confirmed at this time," said a company spokesperson.

Resident Evil 4
Resident Evil 5
Super Street Fighter IV Arcade Edition
Dead Rising
Dead Rising 2
Resident Evil 6
Dragon's Dogma: Dark Arisen
Ultimate Marvel vs Capcom 3
Ubisoft
The company with nearly the most games above the vote threshold—EA beat them by a game—but they didn't comment. People sure like Assassin's Creed, though, and want to play more.
Assassin's Creed 2
Assassin's Creed 3
Assassin's Creed Rogue
Assassin's Creed Brotherhood
Assassin's Creed
Assassin's Creed: Revelations
Assassin's Creed IV: Black Flag
Assassins Creed Liberation HD
South Park
Far Cry 3
Splinter Cell Blacklist
Far Cry 3: Blood Dragon
Splinter Cell Conviction
Rainbow Six Vegas 2
Ghost Recon: Future Soldier
Deep Silver
This question should have been targeted at THQ, former owner of Saints Row, but Deep Silver took it over in the last few years, after THQ financially imploded. It's looking good, though!
"We're currently exploring the options for backwards compatibility," said a spokesperson.
Saints Row: The Third

Saints Row 2

Konami
I'm not sure who exactly is voting for a chance to play Silent Hill: HD Collection again, but I don't blame people for wanting Metal Gear to make the jump, with the next game coming soon.
"Glad to hear about all the titles that folks are voting for," said a spokesperson, "but unfortunately we don't have any info to share around this."
Metal Gear Solid 2 & 3: HD Edition
Castlevania: Symphony of the Night
Metal Gear Solid: Peace Walker HD Edition
Silent Hill: HD Collection
Metal Gear Rising: Revengeance
Namco Bandai
Here's one publisher who might not actually want you to play some of its previous games on new hardware, since they recently updated Dark Souls 2 to the Scholar of the First Sin Edition on both PS4 and Xbox One. My guess is plenty are still looking to play the the original game.
Whether or not that happens is an open question, as Namco Bandai did not respond to me.
Dark Souls
Tales of Vesperia
Dark Souls 2
Nordic Games
Like Deep Silver, this is another game franchise switching hands, thanks to THQ's disappearance. Nordic Games took over Darksiders, and it's currently retooling the second game for a re-release on current platforms. That said, it's interested in backwards compatibility.
"Nordic Games can't confirm anything just yet," said a spokesperson. "They would like to make as much of their back-catalog compatible, including Darksiders II, but the program is still new and they need more information to properly assess the process before announcing anything."

Sega
There hasn't been much love for Sega console games in a while, but we have them to thank for bringing Bayonetta to life, even if Nintendo ended up saving the franchise's sequel hopes.
"We have no concrete plans at this time," said a company representative, "but it's awesome to see the fan support for Bayonetta. We'll investigate how we can support this internally."
Koei Tecmo
We haven't heard about the future of Ninja Gaiden the disastrous Yaiba: Ninja Gaiden Z, but before Tomonobu Itagaki left the studio, he delivered the wonderfully difficult Ninja Gaiden 2.
Unfortunately, the company didn't get back to me when I asked about the game getting support.
CD Projekt RED
The Xbox 360 version of The Witcher 2 is where I jumped into the franchise, and it was an excellent port of that game. Though the studio didn't get back to me about backwards compatibility, if you take a close look at Microsoft's E3 press conference, you can spot the game:
It's towards the start of the chain, right in front of Assassin's Creed. That's not quite confirmation, but it's better than nothing, and shows it's certainly on Microsoft's radar.
The Witcher 2: Assassins of Kings

Electronic Arts
The company with the most games on the list, according to my threshold, there are tons of EA games people would like to be playing. Mass Effect was even shown at Microsoft's E3 event.
While EA didn't get back to me—my email was forwarded along to someone, then promptly vanished into the digital void—there's signs they are looking into backwards compatibility.
The full list of games, however, is much larger.
Mass Effect
Mass Effect 2
Mass Effect 3
Battlefield 3
Battlefield: Bad Company 2
Skate 3
Mirror's Edge
Dragon Age: Origins
Dragon Age 2
Dead Space
Dead Space 3
Dead Space 2
Burnout Paradise
Need For Speed Most Wanted
Crysis 3
Dante's Inferno
Disney/LucasArts
LucasArts doesn't exist anymore, so by default, Disney now owns the rights to Star Wars: The Force Unleashed and its sequel. I tried scraping up some information, but didn't have any luck.
Star Wars: The Force Unleashed

Star Wars: The Force Unleashed II

Warner Bros.
It's possible Warner Bros. just doesn't want to talk to me right now, but it also seems like most companies are only beginning to explore how backwards compatibility will impact their catalog. But like EA, there are vocal developers already telling fans that it's being looked into.
We'll have to see how that shakes out.
Batman Arkham City
Arkham Asylum
Arkham Origins
Injustice: Gods Among Us
Mortal Kombat
LEGO Star Wars: The Complete Saga
Valve
It's true, Valve used to release video games. It feels like a long time ago, but according to a Wikipedia entry, it was once a semi-regular event for the company that founded Steam.
The studio did not respond to my question about backwards compatibility.
Left 4 Dead 2
Portal 2
The Orange Box
Left 4 Dead
Portal: Still Alive
Bethesda Softworks
If there's proof of preferential treatment in the games being prioritized for backwards compatibility, it's probably evident in Bethesda being able to promise Fallout 3 would come free for anyone who bought Fallout 4 on Xbox One later this year.
As for the rest of the company's lineup? We'll have to wait and see. They didn't get back to me.
Skyrim
Fallout: New Vegas
Dishonored
Oblivion
DOOM
Take-Two Interactive/Rockstar Games
There are a ton of games at the top of the list for both companies (if you're not aware, Take-Two Interactive owns Rockstar Games). We already know Borderlands is coming, since Microsoft has demonstrated the game in action already, so it wouldn't be a surprise if the others do, too.
They're not yet commenting on what might else might be coming.
Bioshock Infinite
BioShock
Borderlands
BioShock 2
Borderlands 2
Mafia II
Civilization Revolution
Red Dead Redemption
GTA 4
GTA: San Andreas
GTA 5
LA Noire
Max Payne 3
Activision
One has to imagine the company is considering some HD remasters of its previous blockbuster Call of Duty games, but we haven't heard any rumblings about that just yet. It's hardly shocking some of the biggest games from last generation are games people want to keep playing now.
However, as was the case with many other companies, they didn't respond to my requests.
Call of Duty: Black Ops 2
Call of Duty: Modern Warfare 2
Call of Duty: Modern Warfare
Call of Duty: World at War
Call of Duty: Call of Duty 2
Call of Duty: Call of Duty 3
Call of Duty: Ghosts
And while that does it for now, but I'll be keeping an eye on backwards compatibility in the weeks and months ahead. Right now, it's not available for all Xbox One owners—that's later this year—and I suspect we'll be hearing a lot more game announcements as that gets closer.
You can reach the author of this post at patrick.klepek@kotaku.com or on Twitter at @patrickklepek.