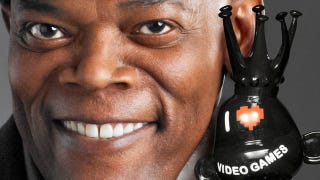 Alright, folks. The 2012 Video Game Awards on Spike TV ain't just Sam Jackson handing out a bunch of monkeyfighting awards to some Monday-to-Friday games. In fact, one could argue that is the least interesting purpose of what is essentially an E3 keynote in December.
Gears of War: Judgment will premiere a trailer showing us stuff we haven't seen before; so will games like South Park: The Stick of Truth, Tomb Raider and BioShock Infinite. And there's always a few totally new games who get their first-ever announcement at this show, too. Rumors already are swarming as to what that could be.
Whatever comes down, you can watch all of the action here, live, on two streams—one of the show itself, the second one of the VGAs' All Access show, featuring our editor-in-chief, Stephen Totilo plus others.
Kotaku's writers will be breaking out the news as it happens in Los Angeles, with stories, videos and more once they come available. And consider the comments below your forum for gabbing about what you're seeing, loving, hating, etc. Won't you join us?
The 2012 Video Game Awards on Spike TV
All Access with Stephen Totilo and More