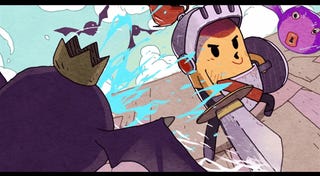 Holy Potatoes! A Weapon Shop?! is what you get when you cross Recettear: An Item Shop's Tale with lots of starch, I guess.

Here's the premise:
Holy Potatoes! A Weapon Shop?! is a wacky simulation game where you manage your very own weapon shop and expand its business across an incredible potato world.

Use your potato smiths to forge weapons and sell them to questing heroes. You will meet more than 70 potato heroes, forge more than 200 weapons, expand your business into 20 wacky areas, manage 30 zany potato smiths, discover 10 legendary pop culture heroes . . . and even adopt a potato dog!


Inspired by games such as Game Dev Story, Weapon Shop De Omasse and Recettear: An Item Shop's Tale, Holy Potatoes! A Weapon Shop?! is designed to provide an exciting new gameplay experience to fans of this emerging game genre.

I'm going to play this live, on stream for the first time here at 6PM EST/3PM PST. Perhaps you'll join me? If nothing else, this game sounds like the right type of wacky.
The Monday stream is a weekly variety show that plays everything from the latest and greatest, to the stuff you've probably never heard of—all in an effort to make Mondays suck a little less. Follow us on Twitch here, or catch our latest YouTube highlight here.