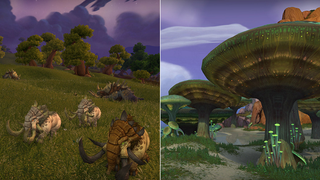 Warlords of Draenor is shaping up to be one giant World of Warcraft nostalgia trip. If the new Upper Blackrock Spire didn't hit you hard, the revamped Nagrand, one of the fan-favorite zones of the BC era, will. These preview shots look really cool—hopefully the zone will still be exciting without the floating rocks.

Warlords of Draenor Zone Preview: Nagrand [Battle.net]
Dayshot is an image-based feature that runs every morning, showcasing some of the prettiest, funniest game-related screenshots and art that we can find. Send us suggestions if you've got them.
To contact the author of this post, write to: gergovas@kotaku.com