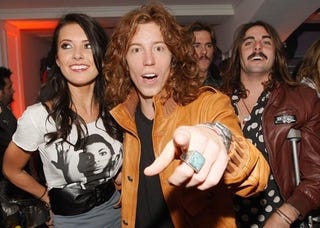 "Shaun White" isn't just some name on some snowboarding game called Shaun White Snowboarding. He's an actual person! And he's won Olympic gold. Again.
After taking Olympic gold for halfpipe at the 2006 Torino competition, White has won gold yet again at the 2010 Vancouver Winter Games. White did so well on his first run that he posted the recording-breaking top score.
So does that mean there is a Shaun White Snowboarding coverboy curse? No, quite the opposite.
White, Vonn, Davis Win Olympic Gold in Record-Tying U.S. Haul [BusinessWeek] [Pic]