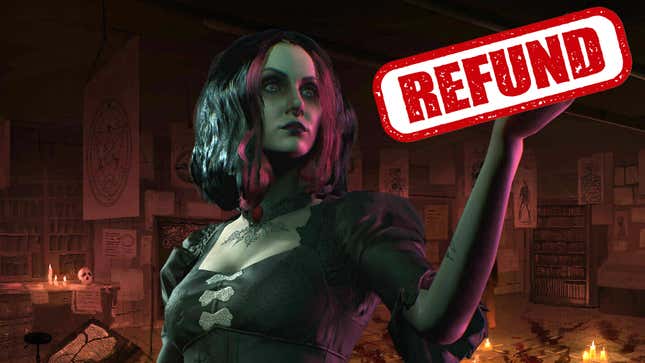 After years of silence on the game, Vampire: The Masquerade - Bloodlines 2 publisher Paradox Interactive has finally revealed a few new screenshots to hint at its ongoing development. At the same time, the company has offered refunds to anyone who pre-ordered the sequel, people who in some cases have been waiting years to get the game they paid for.
Nintendo Showcase Standout Gunbrella Has The Best New Video Game Name Of 2022
Originally announced in 2019 and once slated for release in 2021, the sequel to the cult classic 2004 RPG Vampire: The Masquerade - Bloodlines has long been silent. In a new blog post, publisher Paradox Interactive recognized the lack of updates on the game's development. The post also indicated that the various editions in which the game finally becomes available may evolve from the original offerings, and that therefore anyone who wishes to may refund their existing preorder, saying:

We acknowledge it was a long time ago that many of you pre-ordered Vampire: The Masquerade - Bloodlines 2. As development continues, we will be updating the game's editions and bonus content, and we want to provide the best value to those of you who supported us via digital pre-order after all this time. We are thus offering refunds to anyone who has pre-ordered any edition of Vampire: The Masquerade - Bloodlines 2. As part of this process, we are proactively refunding all pre-orders of physical products, including the Collector's Edition. The digital versions of the First Blood Edition, Unsanctioned Edition and Blood Moon Edition remain, but can be refunded if you choose.
At the end of the blog post, Paradox announced it would reveal more information about VTMB2 sometime in September.

Read More: Vampire: The Masquerade Bloodlines 2 Delayed Past 2021, Developers Removed From Project, Preorders Halted

Vampire: The Masquerade Bloodlines 2 has had a troubled development
VTMB2 has had a troubled development since it was first announced in 2019, facing numerous delays as well as losing its lead writer and creative director in 2020. Paradox later announced that VTMB2 would not release in 2021, alongside news that developer Hardsuit Labs would no longer be involved with the project. At the time, the publisher released a statement saying it would no longer be accepting pre-orders for VTMB2 because it couldn't "communicate a new release date."