Despite lingering tensions between AMD and Nvidia over the latter's close relationship with major game developers, Ubisoft is extending its partnership with Nvidia to cover its biggest upcoming PC titles.
Ubisoft announced the partnership in a press release Thursday, saying that it is working closely with Nvidia's GameWorks program to develop four of its most highly anticipated games: Assassin's Creed: Unity, The Crew, Far Cry 4, and The Division.
The announcement in and of itself is nothing out of the ordinary. As today's press release noted, Ubisoft entered into a similar partnership with Nvidia for its popular games Assassin's Creed IV: Black Flag, Splinter Cell: Blacklist, and the newly released Watch Dogs.
But it comes just a week after AMD threw some hefty stones at its longstanding rival over the influence that GameWorks has in the game industry and for PC gaming in particular.
The company's accusations came in response to some spec-heavy analysis showing that Watch Dogs' performance was subpar on PCs using AMD cards compared to ones running Nvidia tech. Combined with the online connectivity issues that have been keeping some players out of Watch Dogs entirely, PC gamers haven't been a happy bunch as of late.
G/O Media may get a commission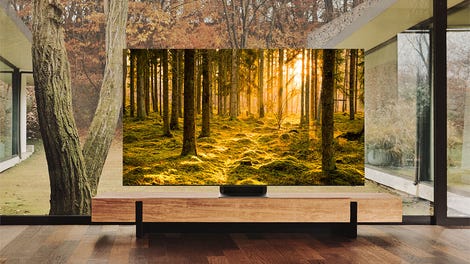 Up to 40% off
Samsung Smart TVs
And the Watch Dogs performance gap is just the latest example of AMD users getting a raw deal for games developed under the GameWorks program. Other titles like Batman: Arkham Origins have raised the same issues for PC gamers.
Speaking to Forbes in late May, AMD's Robert Hallock said that GameWorks "represents a clear and present threat to gamers by deliberately crippling performance on AMD products (40% of the market) to widen the margin in favor of NVIDIA products."
Nvidia quickly fired back with a flat denial, but that hasn't done much to assuage the fears of PC gamers with fresh memories of Watch Dogs and Arkham Origins not running so well on their AMD-powered rigs.
GameWorks is a recent initiative spun out of Nvidia's existing products and services that was designed to put the company closer to the entire development process of a given game—giving a company like Ubisoft access to a more robust set of tools so they can "bring an enhanced gameplay experience to [...] PC players," as Ubisoft VP Tony Key put it in today's press release.
Slick visuals and "enhanced gameplay" aren't usually a bad thing. But AMD's charge highlighted a concern that many PC gamers also have about GameWorks—that it cements an arbitrary relationship between a graphics card maker and actual game developers—one that leads to unnecessary performance-hampering effects when the games are played with a competitor's technology.
In the short term, therefore, AMD's accusation suggested that this means PC gamers who prefer the company's cards to Nvidia's would get a lesser version of a game like The Division or Assassin's Creed: Unity for no better reason than a high-level corporate deal being made without their prior knowledge or approval.
And so the great Nike-versus-Adidas rivalry of video games continues.
To contact the author of this post, write to yannick.lejacq@kotaku.com or find him on Twitter at @YannickLeJacq.