Launched earlier this year, Ubisoft's motion picture arm is wasting no time at all getting the game developer's biggest franchises onto the silver screen, with 3D features based on Assassin's Creed, Ghost Recon, and Splinter Cell in the works.
Ubisoft is finally putting into motion its long-standing plan to transform itself from video game developer into multimedia juggernaut. With the 2008 acquisition of 300 effects studio Hybride Technologies, its Ubisoft Digital Arts studio, and the recently launched Ubisoft Motion Pictures, all of the pieces are now in place. It's time to make movies!
If you know the games, then you know the movie game plans. Assassin's Creed will be a sweeping period action/adventure pic. Splinter Cell will be a Bourne Identity-style thriller centering on Sam Fisher's quest to do his job while protecting his daughter. Ghost Recon will be a high-tech military film based on a top secret military squad protecting world peace.
Ubisoft Motion Pictures' senior VP of international marketing and distribution Jean de Rivieres says the movie efforts are focused on staying true to the video game properties.
"Our strategy is not to diversify but to bolster the appeal of our franchises — that's why we want to make sure our films will reflect the brands accurately and consolidate our fan base while expanding beyond the games' primary target audience."
G/O Media may get a commission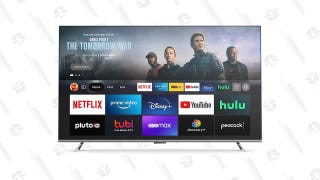 Save 46%
Fire TV 55" Omni Series 4K UHD Smart TV
Representatives from Ubisoft Motion Pictures will be in California next month talking to studios and agents, and plan on having scripts ready by the end of the year.
Gallic vidgamer Ubisoft lines up 3 features [Variety]
(Picture from filming of Assassin's Creed: Lineage | PC Games Hardware)