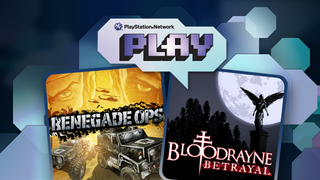 The final two installments in the PSN PLAY program that will earn you a voucher code for PAYDAY: The Heist are here. BloodRayne: Betrayal is already out and Renegade Ops is now available as well. But since they're part of the PLAY plan to get PAYDAY: The Heist free, each one comes with its own special bonus goodies.
When you buy BloodRayne: Betrayal through PLAY, you'll get a virtual item for your PlayStation®Home avatar and an exclusive dynamic theme.. It's a big change for the BloodRayne series with developer Way Forward lending their amazing art loose via action packed, 2D gameplay. Pair that with the driving shooter Renegade Ops and you have hours of world-saving entertainment right at your fingertips. And when you buy Renegade Ops through PLAY, you'll get a limited edition Vehicle & Character Pack with two new vehicles and special weapons; set to arrive by the end of October.
As with the two other PLAY games already out, these two are $14.99. The only exception is PAYDAY: The Heist, which clocks in at $19.99. Since PlayStation Plus subscribers automatically get 20% off every purchase, wrangling them all up and earning a voucher code for PAYDAY: The Heist isn't going to break the bank. Click here to order!