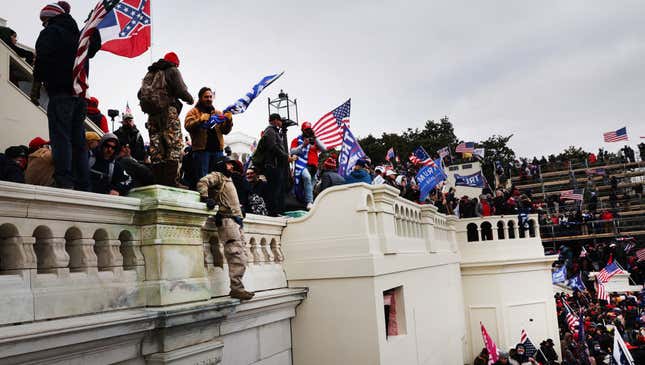 In the wake of yesterday's violent, conspiracy-fueled insurrection at the Capitol Building, Twitch has elected to indefinitely suspend Donald Trump's Twitch account.

11 Minutes Of Cozy Railway Planning In Station To Station
In an email to Kotaku, a Twitch spokesperson explained the company's rationale.
"In light of yesterday's shocking attack on the Capitol, we have disabled President Trump's Twitch channel," the spokesperson wrote. "Given the current extraordinary circumstances and the President's incendiary rhetoric, we believe this is a necessary step to protect our community and prevent Twitch from being used to incite further violence."
For now, the suspension is indefinite. "We are focused on minimizing harm leading up to the transition of government and will reassess his account after he leaves office," the spokesperson said.
This follows a similar decision from Facebook, which earlier today banned the reality show host turned insurrection-inciting United States president until "at least" the end of his term later this month. YouTube, meanwhile, has restricted Trump's account for a yet-to-be-determined period of time, as have Twitter and Snapchat. Twitch also took action yesterday, removing its popular Pogchamp emote after the personality on whom it is based, Ryan "Gootecks" Gutierrez, made statements encouraging "civil unrest" on behalf of a "MAGAMartyr" who was shot and killed inside the Capitol Building.
This is not the first time Twitch has suspended the president's channel. In June of last year, the company shushed Trump's halfhearted "How do you do, fellow kids?" after his channel broadcasted a Tulsa rally in which Trump accused a hypothetical "very tough hombre" of "breaking into the window of a young woman whose husband is away" to illustrate a larger point about what would happen if people couldn't call 911. At the time, Twitch said Trump had broken its rules around "hateful conduct," also citing a now-notorious 2016 rally in which he called Mexican immigrants "rapists." Prior to that first suspension, Trump's unmoderated Twitch chat had transformed into a sounding board for his base's unhinged id, causing it to overflow with racism, sexism, and QAnon conspiracy theories during broadcasts of big events.
While Twitch has never been as important to the spread of Trump's rhetoric as Facebook, YouTube, and Twitter, this is nonetheless another instance of "too little, too late" on the part of a company that could have previously pulled the plug on Trump whenever it wanted. Now, after four years of tumult and increasingly violent antics on the part of his conspiracy-addled supporters, he's an outgoing president with just a couple weeks left in office. Companies are finally nipping at his heels because it's no longer risky to do so.
Trump will almost certainly not just up and disappear after his term reaches its conclusion later this month. Big platforms have clearly yet to decide how they're going to handle what happens next. If the past is anything to go on, they will probably do an inexcusably poor job, and we will all be infinitely worse off as a result.
Recommended Stories