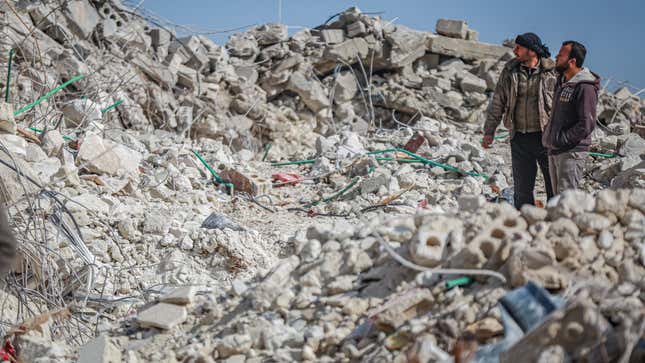 Twitch isn't just a place where artificial intelligence festers and drama proliferates. It's also a useful organizational platform for raising awareness around and funds for various global causes, which is exactly what a handful of big-name streamers, like Ben "CohhCarnage" Cassell and Hasan "Hasanabi" Piker, are using it for in the wake of the calamitous earthquakes that have devastated Syria and Turkey in recent days.
Lego Star Wars: The Skywalker Saga's Air Combos Make Me Feel Skilled AF
The southwest Asian countries, Syria and Turkey, were decimated by two powerful earthquakes earlier this week, killing upwards of 7,000 people and displacing more than 150,000 others. As of this publication, survivors are still being pulled out from the rubble, including a newborn baby who still had their umbilical cord attached. Things are looking dire for Syrian and Turkish people at this moment.
In response to the destruction impacting both countries, popular Twitch and YouTube streamers, from Hasanabi to IShowSpeed to Ludwig and more, are raising funds to aid in the humanitarian crisis.
The fundraiser, which was started by Hasanabi and will benefit charities such as the nonprofit organization AKUT and Turkish rock star Haluk Levent's organization Ahbap, has already brought in over $700,000. Scrubbing through the list of top donors to the effort reveals who else has joined the effort and donated money. This includes content creators like Seán "Jacksepticeye" McLoughlin ($10,000), Rachell "Valkyrae" Hofstetter (also $10,000), Ludwig "Ludwig" Ahgren ($5,000), CohhCarnage (also $5,000), Darren "IShowSpeed" Watkins Jr. ($2,000), and many more. Even notorious gambling streamer Tyler "Trainwreck" Niknam pledged to gift $150,000 in bitcoin to "legitimate humanitarian charities" that take the cryptocurrency. And, of course, Hasanabi donated $25,000 of his own money to the cause.
Kotaku reached out to CohhCarnage, Hasanabi, IShowSpeed, and Trainwreck for comment but did not get a reply in time for publication.
This is amazing to see. Too often, Twitch coverage focuses on the negativity of the platform. Sure, there's always something absurd and strange happening on Amazon's livestreaming service, like the AI Seinfeld show that was recently banned, but it's beautiful to witness some of the biggest stars—and those who have since left the platform for greener pastures on YouTube—coming together to help those that need it. If you can donate, please consider lending a helping hand.