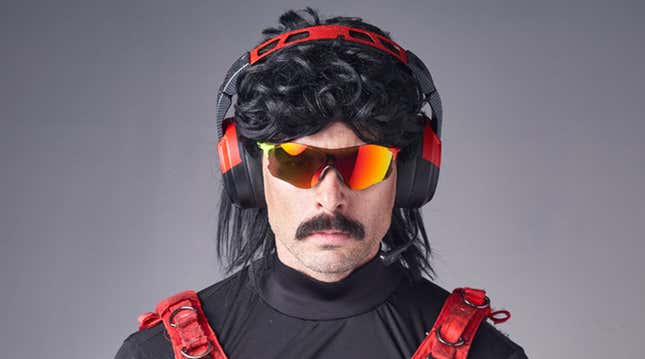 Today, out of the blue, Twitch suspended massively popular streamer Guy "Dr Disrespect" Beahm, a ban that multiple sources tell Kotaku is permanent.
The Week In Games: System Shock, Street Fighter 6, And More
Initially, people suspected that he'd tripped a wire in Twitch's increasingly aggressive DMCA detection system, but that does not appear to be the case. Industry insider and journalist Rod "Slasher" Breslau said on Twitter that, according to his sources, the ban is permanent. Streamer Shannon "ShannonZKiller" Plante said she'd heard the same from her own sources, adding that the issue is "serious." Three sources close to Twitch have told Kotaku that the ban is permanent as well.
When reached for more information on why Dr Disrespect has been suspended and for how long, a Twitch representative told Kotaku in an email, "As is our process, we take appropriate action when we have evidence that a streamer has acted in violation of our Community Guidelines or Terms of Service. These apply to all streamers regardless of status or prominence in the community."
Twitch is refunding viewers' subscriptions to Dr Disrespect's channel and removing his emotes, as well. It appears that the platform has revoked his partner status as well.
Last year, Dr Disrespect was temporarily suspended from Twitch after broadcasting from a public bathroom during E3. That was the only prior time his channel had been removed from the site.
However, over the years, Dr Disrespect has gained a reputation for toeing the line and getting away with stunts that other streamers would likely receive punishment for. Most recently, he spread and endorsed baseless coronavirus conspiracy theories. He received no public punishment for this, even after another streamer, Kaceytron, got suspended over coronavirus jokes. More broadly, he has made a habit of engaging in various sorts of toxicity while leaning on his Dr Disrespect character to give himself plausible deniability any time he takes things too far. Despite that and because of his knack for over-the-top humor, he's became one of Twitch's biggest, most well-promoted stars. Late last year, he secured a TV show development deal. Earlier this year, he announced that he signed a multiyear deal to stream exclusively on Twitch. Sources have told Kotaku the deal was worth as much as $10 million per year.
Now, though, the future of his whole career appears very much up in the air.
Recommended Stories