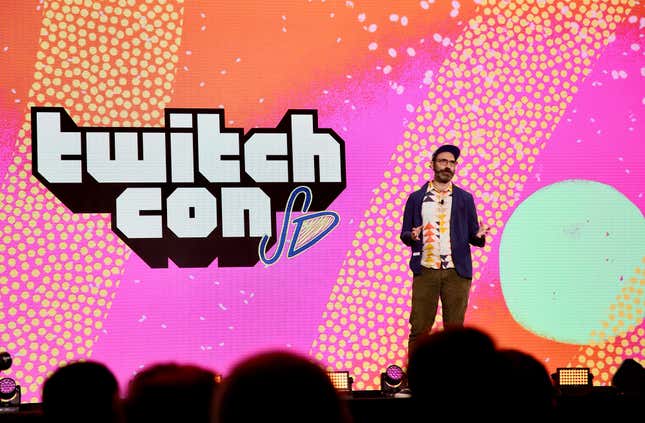 Emmett Shear is no longer the boss of Twitch. After 16 long years punctuated by various controversies, the co-founder and only CEO the Amazon-owned streaming platform has ever known announced he's stepping down to spend more time with his family.
We Need To Talk About This John-Wick-But-It's-Cute-Girls Anime
"With my first child just born, I've been reflecting on my future with Twitch," Shear wrote in a blog post on Thursday. "Twitch often feels to me like a child I've been raising as well. And while I will always want to be there if Twitch needs me, at 16 years old it feels to me Twitch is ready to move out of the house and venture alone."
Shear, who started Twitch with Justin Kan as Justin.tv back in 2007, will be replaced by current Twitch President, Dan Clancy, who arrived at the company as recently as 2019 after long stints at both NASA and Google. Shear said he'll continue to work with Twitch in an advisory role, but writes that he no longer fears that the platform would die "without my guidance and input."
"Twitch CEO Emmett Shear resigning and locking his post so no one can respond is exactly on point with how he acted as the leader of Twitch: completely disconnected from the community and creators," wrote Twitch partner LocoTV. In the quote-tweets and comments elsewhere on social media, creators debated Shear's legacy as Twitch faces ongoing criticism that it's disconnected from the needs and desires of streamers and their fans.
Twitch was born when Justin.tv spun its gaming-centric streams off in 2011, and was bought by Amazon in 2014 for just under $1 billion. Since then the platform has grown and changed a ton, with its most popular streamers expanding into content beyond gaming, effectively operating everything from daily talk shows to sketch comedy clubs.
But it's also come under tons of ongoing scrutiny around creator payment splits, targeted harassment, and streamers profiting off of things like gambling. Twitch outraged many creators last year when it announced the end of special 70/30 splits for top performers. At the time it claimed the revenue changes were the result of higher fees charged by Amazon Web Services, its parent company's cloud computing money maker.
During TwitchCon 2022, monetization chief Mike Minton defended the change, claiming it was about being fair to the majority of creators who don't pull in big numbers and have been dealing with the 50/50 split for years. It was at the same event that streamer Adriana Chechik broke her back after falling into an unsafe foam pit at Lenovo's booth.
At the same time, Twitch has been bleeding some of its biggest stars to YouTube. More recently, the platform has tried to address longstanding complaints over controversial features like channel raids and improve moderation and user safety on the platform. Still, a steady exodus of staff and high ranking executives leaves big questions about how Twitch will compete in a world dominated by shortform video on platforms like YouTube and TikTok
"With the arrival of my son, the time has come for me to focus my energies on building that tiny little startup family, and I'm ready to dedicate my energies there," Shear wrote today. "Twitch will always remain part of my extended family, a community where I grew in so many ways alongside Twitch itself."
Twitch caught in latest Amazon layoffs
Shear's announcement ended up coming just a couple days before layoffs. In his first public comments since taking over, new CEO Dan Clancy announced that 400 people were getting laid off at Twitch, as much as 22 percent of the platform's total workforce. No one at the company knows who will be among those leaving or staying until next week, Polygon reports.
"Like many companies, our business has been impacted by the current macroeconomic environment, and user and revenue growth has not kept pace with our expectations," Clancy wrote. "In order to run our business sustainably, we've made the very difficult decision to shrink the size of our workforce."
That's still a small fraction of the total number of employees laid of at Amazon more broadly on Monday. Nine thousand were shown the door, for a combined 18,000 laid off staff in the last few months. It's not clear if the Twitch layoffs were a catalyst for Shear's departure, or just coincidental.
Update 3/16/23 5:04 p.m. ET: Added further info about Twitch's recent challenges and how streamers are reacting to Shear's departure.
Update 3/20/23 2:12 p.m. ET: Added information about layoffs.