Yesterday video game streaming service Twitch announced new systems that had its legion of streamers steaming. The elimination of an easy "save forever" function on videos came first, but people really got riled when Twitch trotted out a YouTube-style audio monitoring tool. Kinda good news: both are in for big changes.
Responding to an avalanche of concerns in a Reddit AMA, Twitch CEO Emmett Shear explained that his company is already looking into a lot of the potential problems with these new systems. For instance, the two hour time limit on highlights (read: saved videos)? Soon to be gonzo.
"Our research prior to launching the feature indicated that almost no highlights were longer than 2 hours, and we were concerned about abuse of the tool. It's clear that we underestimated the demand and need for a solution here, and fortunately we have 3 weeks to figure one out. Expect changes here soon."

"It has disproportionately large impact on certain communities (speedrunning most obviously) and we're very concerned about making sure that every community on Twitch has a good experience."
As for the automatic audio/music monitoring tool, which seeks out copyrighted sounds and mutes them 30 minutes at a time, it's still very much a work in progress:
"Future plans: increase the scan resolution so that we don't have to flag 30 minute chunks at a time, identify why things have been flagged, institute an appeals system, make sure there isn't any original game music on the flagging list."
G/O Media may get a commission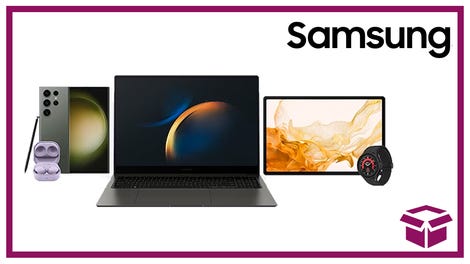 24 hour deals
Discover Samsung - Daily Deal
Twitch is also looking into letting people quickly allow use of their copyrighted/claimed music, but don't expect that any time soon:
"We're working on providing the ability to 'accept the claim' and share monetization, but that might take a long time."
All that said:
"We have no plans at all for this to expand to live content. Even if we could run this on live this second, we absolutely would not."
That last part is good to hear, at least. The rest, though, is cold comfort given that YouTube's system already includes a lot of these things and still regularly falls flat on its face. It's something, but a nice, big cure-all for every concern this ain't.
Why now, though? Why change things up when they were going so smoothly before? Well, a couple things, according to Shear:
"We did need to change things. This is laying groundwork for some work in the future you guys are REALLY going to like. We've been intending to do this for some time, but it took us a while to identify and select a content identification partner and get the system up and reliable."
OK, what kinds of things does this set the stage for?
"How about [video on demand] being available on every platform, not just web? These VOD changes are explicitly to a required step to support that ability (bringing VOD to other platforms)."
Shear did, however, at least apologize for how all of this new stuff was announced.
"Simply put: we screwed up and should have announced it ahead of time. Sorry."
However, even though he claimed to very much understand how much Twitch users care about music and their ability to incorporate it into streams, he didn't really get the gist of many users' complaints: namely, while copyright stuff is unavoidable, this type of auto-flagging system doesn't pair well with Twitch. But Shear was resolute: it's here to stay. He attempted to justify the decision, explaining:
"As Twitch becomes more prominent, our streamers get increasing prominence as well. No one wants to be liable for using unlicensed music and we think this is the best way to solve this problem for both us and our broadcasters. Obviously there are some edge cases to fix, but in general this is an important change that we have to do."

"We fully intend to find ways to have music be a great experience on Twitch. We know you guys love music, we love music too and want to keep it as part of Twitch."
Huh. Well, that doesn't really mean anything, but at least they're trying to do... something. Eventually.
They've still got a long way to go, though. Twitch's new audio system even flagged some of the company's own content recently. To his credit, Shear didn't just ignore the people pointing that out. Instead, he wiped the egg off his face and replied:
"Well, at least it shows we're even handed..."
Icon made by Freepik from www.flaticon.com