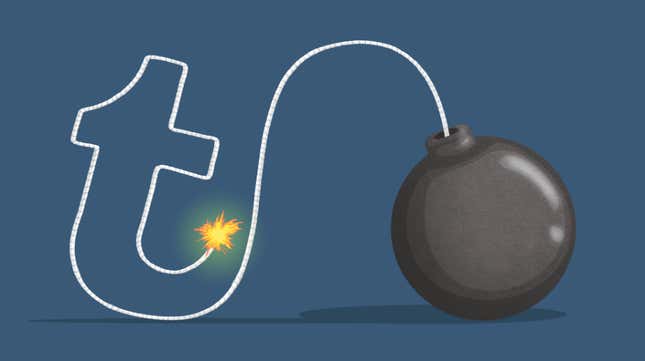 Beginning December 17th, the digital scrapbook Tumblr will ban all visual adult content on its site. It's the latest step in the platform's struggle with adult content.

The Week In Games: What's Coming Out Beyond Assassin's Creed Mirage
Tumblr's new community guidelines are very specific. "Adult content primarily includes photos, videos, or GIFs that show real-life human genitals or female-presenting nipples, and any content—including photos, videos, GIFs and illustrations—that depicts sex acts," the company wrote today in a blog post about the community guideline changes. Images of nipples related to breastfeeding, birth or images from after birth, or "health-related situations" will be allowed, as will written erotica, nudity related to newsworthy events, and "nudity found in art."
Tumblr has been struggling with adult content. On November 16th, Tumblr's app was removed from the iOS store. The company, owned by Yahoo, confirmed that the removal of the app was related to child pornography being uploaded to Tumblr. "Every image uploaded to Tumblr is scanned against an industry database of known child sexual abuse material, and images that are detected never reach the platform. A routine audit discovered content on our platform that had not yet been included in the industry database. We immediately removed this content," Tumblr wrote in a blog post about the status of the iOS app, adding, "We're continuously assessing further steps we can take to improve and there is no higher priority for our team." One of those further steps, it seems, is removing adult content from Tumblr wholesale.
Update - 2:13 pm: In an email a spokesperson from Tumblr clarified that the removal of adult content was not related to the app's removal from the iOS store.
While the move is good for Tumblr overall—the spam bots that post pornography have been a persistent problem on the platform, and removing child pornography is not just a legal obligation but an ethical one—a similar crackdown on adult content preceded a mass exodus of the fandom userbase from LiveJournal in 2007. After a few popular fandom journals and communities were deactivated, members of the larger fannish community created the new journaling service Dreamwidth, as well as the fanfiction hosting service Archive Of Our Own. Others migrated to Tumblr.
As competitors like Pillowfort and Are.na are chomping at Tumblr's heels, time will tell if this move leads to another fandom migration.