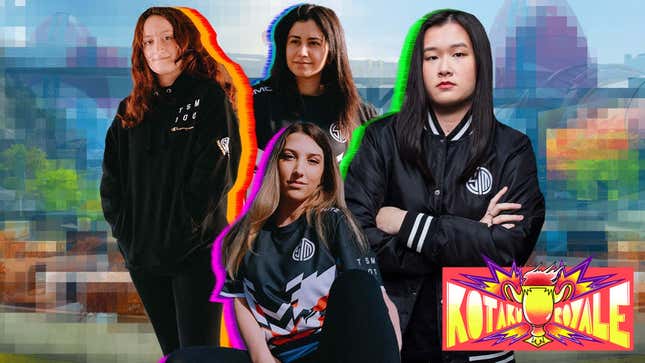 Janey, Sabz, Avuhlie, and GuhRL are probably younger than you, but they're definitely better at Apex Legends than you. The four young women, who range in age from 17 to 27, are esports organization TSM's first all-women pro Apex squad—quite a feat when you consider the game's notoriously high skill ceiling. Announced in a blaze of glory with a hype video worthy of an NFL team, the women, all of whom were already content creators and high-level (if not pro) Apex players, were catapulted to a new level of internet infamy.
The foursome, who will rarely play together outside of streaming and creator events because of their disparate locations (Janey is in Ontario, Sabz in Poland, Avuhlie and GuhRL in the U.S.), share a love of Apex Legends, but have wildly different personalities. As I chat with them via video call, I realize that they remind me of my high school friend group, each one slotting into a different archetype: Sabz is chatty and bubbly, Janey dry and sharp, Avuh kind and youthful, GuhRL measured and more mature.
The Witcher 3 Meets Tense Roguelike PvE Card-Battling In Rogue Mage
They have their own roles in the world of Apex Legends competitive play as well, and most of them don't mirror their IRL personalities. Janey mains high-flying, hypermobile Valkyrie (somewhat reluctantly, as the team says she's the best at utilizing Valk's movement, even if she doesn't always want to play her), Avuhlie (the squad calls her Avuh) plays the electric and very French Wattson, GuhRL the mobile and chatty Pathfinder, and Sabz the pensive and intense Bloodhound.
When I ask what draws them all to Apex Legends, they almost uniformly agree: its unique movement mechanics and lightning-fast pace. "You cannot compete with the movement," Sabz says. "Warzone [2.0] changed so much with its movement, so right now movement is the best in Apex. That's the main thing. It's also such a hard game, so many things are happening—you have to predict the zones, fight for different things, you need to rotate…It's not only you against the other team, you need to pay attention."
The Apex pro game, but make it women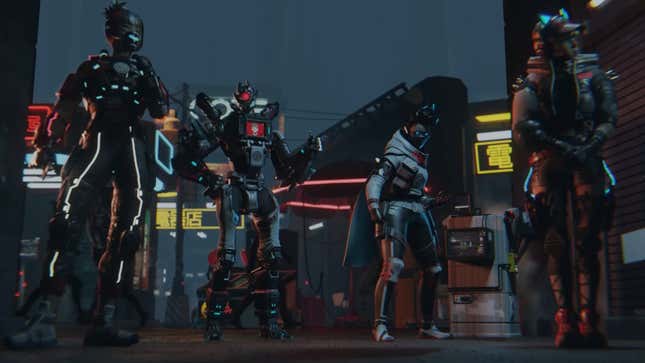 As a woman who struggled to feel welcome in the intense, antagonistic, and harassment-filled early 2000s lobbies of Halo 2 and 3, I'm curious how these young women got their starts and how they've grown into their impressive careers.

GuhRL started her FPS journey with Call of Duty 4: Modern Warfare and found solace playing with women's clans on PlayStation. She honed her skills and started playing Apex competitively even before ALGS was created, with her and her squad breaking the top 20 overall in the world.
Janey lived a fairly "normal life," working a retail job and going to school until a friend told her about Apex Legends. Then she started aggressively playing and streaming, drawing enough attention that TSM signed her as its first female Apex Legends content creator back in 2021. Watching her highlight reel, it makes sense: She has the confidence and swagger I dreamed of having in my early twenties. "I'm so good," she exclaims after knocking down an entire team. Moments later, my jaw hits my desk as I watch her use Valkyrie's jetpack to soar into the air and no-scope an enemy player 20 feet below her.
Sabz started with League of Legends, which she played for four years before realizing she was "becoming kind of toxic." Then she tried out Fortnite for a couple of seasons, playing and streaming at the same time, before another Polish streamer started helping her out with her Apex game. "I was learning slowly, but then I was finally ready and thought, 'Oh, I want to build a squad for LGS [Apex Legends Global Series] and finally compete at the highest level." So she did, with an all-Polish crew that eventually separated due to life events and/or drifting off to other games like Call of Duty. It was then that Sabz made a tough decision, and started streaming in English instead of Polish, which eventually (after much hate from her Polish fans) led to her finding a new squad.
Avuh has the most interesting and thoroughly modern road to pro-Apex fame: Her parents bought an Xbox One/Titanfall bundle back in 2014. "That's how I got into FPS games," she says. "I was really jealous of my brother, because he picked it up really quickly, and I wasn't able to, so I begged him to teach me and he did, pretty much every day." When she heard about Apex Legends' surprise launch in February 2019, she downloaded the Titanfall-adjacent battle royale and hasn't looked back since. She even forced herself to learn mouse and keyboard after spending years on controller, which she thinks elevated her to a pro player level because of the unique Apex movement mechanics like tap-strafing and super-gliding that are much easier to pull off on mouse and keyboard. Forcing herself to forgo the input method she learned Apex Legends with has "really paid off."
Legends don't listen to haters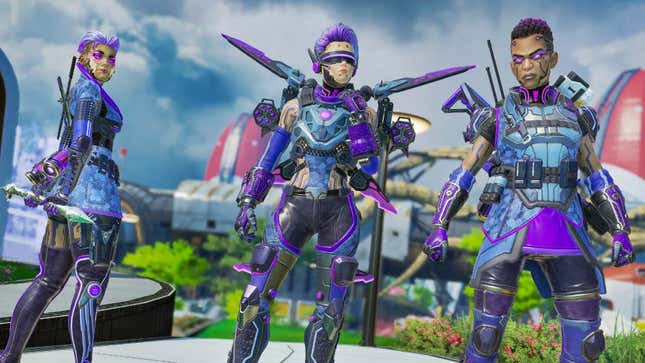 What unites all four women isn't just their love of Apex Legends, or the fact that TSM signing them is the first time not one but four women have been signed to a tier-one global esports organization—it's their desire to be the best of the best, the top of their game, no matter what they have to put up with to get there. They recognize their unique position: They're trailblazers on the Apex esports scene and for women in esports in general, but despite the pressure and their relative youth, they're surprisingly chill when I ask them how they feel to be in such a spot in their careers.

"Playing professionally as a woman has its ups and downs. There are a lot of women looking up to you, so there's a bit of pressure there, because they want to see their role models do well," GuhRL says matter-of-factly. She offers the floor to Janey and Sabz, the latter of whom steps in to rapidly lay it all on the line.
"People are still surprised that we're even in pro league…they're like 'how is it happening? It's full lobbies of only boys, how are you in?' Some people are still living in that loop of 'there's no way women can compete at the highest level.' Especially in Apex…"
"Some people are just not optimistic, they're gonna think 'oh she's gonna do bad' but I feel like I'm ignoring that, I'm not even paying attention to that," Sabz says. She references how her experience with online hate after switching from Polish to English on her streams helped her learn what so many young women online have to learn in order to keep existing in these spaces. "I made a barrier around me. I don't care about that stuff. Talk what you want, but I'm here, I'm having fun, I'm competing."
Janey echoes Sabz' sentiments. "There's a lot of people that talk a lot of stuff about us, not even viewership-wise, but competitors. My team and I kind of joke about it every now and then, but we don't really care. Because I feel like a lot of people in this game kind of dwell on what others say, but my team shows that we're better than you."
Janey, Zabs, Avuh, and GuhRL won't always play together, but you'll be able to spot them repping TSM and women players worldwide during various Apex Legends tournaments and streams.