Trion Worlds brings free-to-play voxel-based MMO Trove to Xbox One and PlayStation 4 this week, giving console players a taste of what it's like to slay skeletons while wearing a hippopotamus mask and a top hat. It's kind of fun, really.
While I really dug the stylized look of Trove back when it came out on PC back in 2015, but the congested servers that plagued the game at launch coupled with a busy schedule kept me from diving deep.
Now the game has launched as a free download on Xbox One and PlayStation 4 (following months in beta), and I've had quite a bit more time to get used to it's odd mix of adventuring and building. Despite some lag and the odd connection problem, I'm having quite a lot of fun.
G/O Media may get a commission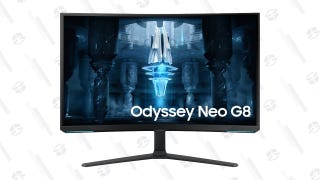 Samsung 32" Odyssey Neo G8 Curved Gaming Monitor
So far the point of Trove seems to be collecting and crafting equipment powerful enough to take you to the latest in a series of increasingly challenging adventure worlds. In these adventure worlds players can mine for building bits, craft and enhance items and build up their personal base. These things increase the player's Mastery rank. They can also travel from dungeon to dungeon, taking out enemies and bosses and completing objectives. This helps players level up whichever character class they're playing at the moment.
The real goal of Trove is to collect all of the hat, face and weapon appearances in the game so you can make your characters look as cool as possible.
Trove is a free-to-play game, so giving it a try will only cost potential players a little bandwidth. Just be careful in the in-game store, where gems purchased with real money can purchase all sorts of shiny things.
If you enjoy yourself, maybe give Patron a try. It's an alternative to monthly subscriptions that grants players faster experience gains and various other benefits.
In summary, my character is wearing a voxel Portal turret on his head. Thank you.