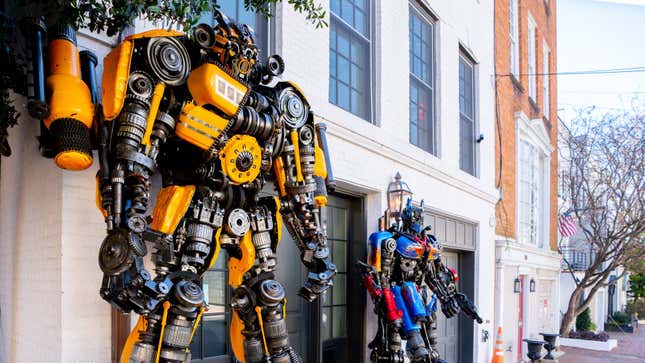 A DC neighborhood has been trying to evict a pair of Transformers sculptures—Optimus Prime and Bumblebee, to be precise—for over two years. Their owner has held firm so far, but a federal board recently voted that these statues can't stay in the historic Georgetown neighborhood.

Diablo IV Druids, Do This ASAP To Unlock Some Powerful New Abilities
In January 2021, Georgetown University neuroscience professor Dr. Newton Howard installed two Transformers statues outside of his rowhouse, infuriating many of his neighbors. He'd commissioned the statues from an artist who built them out of old car parts. The professor, whose research involves seeking an end to diseases like Parkinson's and Alzheimer's through technology and who has earned billions from patents and private investments, has said the robots are meant to show that machinery can be used for good. "They represent the coalition of men and machines, working in harmony but as distinct entities," he said in an interview. "We create robotic and prosthetic arms and all of these things to compensate for damage. That does not make us robots." People might be able to coexist with machines, but it seems that Transformers statues can't coexist with NIMBYs.
Since neighbors had placed planters on the corresponding spot on their own property to where he placed the Transformers on his own, Dr. Howard assumed that there would be no issue. Unfortunately, the neighbors didn't want to share a community with Optimus Prime and Bumblebee, and in April of 2021 the dispute came before the Old Georgetown Board, a small federal entity that can rule on such matters in the district. The board's members rejected the Transformers statues, and he was given a six-month grace period to remove them.
You might think that would be the end of it, but no. Instead of complying with the ruling, the professor replaced his smaller Optimus Prime with an even larger one, and then moved the smaller statue to the roof of his house. These statues drew crowds of visitors, which annoyed his neighbors.
"We have motorcycle gangs that show up and block the middle of the street to take photos, we have cars that idle, we have tour buses… you name it, we have it. We have no access to our sidewalks. People yell and spit at us if we don't stop when they want to take a selfie," said Catherine Emmerson, a representative of a local development group. "Disruptive is a tame word for what we've had to endure over the last 27 months."
Speaking on behalf of Georgetown University students, a neighborhood commissioner disagreed. "We have to recognize that not every neighbor considers these statues disruptive," said John DiPierri. "All the [Georgetown] university students who live across the street… consider these Transformers to be of profound public importance,"
While I understand that the average house there is worth nearly $2 million in value, that's no reason to evict good, sedentary robot neighbors who haven't done anything wrong. Evidently, the board disagreed. They ordered Dr. Howard to remove the large sculptures. He is also required to obtain a separate permit for the smaller Optimus Prime on the roof.

The true gift of the Transformers debates are some of the wild arguments that NIMBYs have concocted to justify their hatred of free expression. "What's to stop someone from putting up a statue of Joseph Stalin and saying well this is provocative, it's art, it speaks to me?" asked one neighbor.