Plastic toy lightsabers are fine if you just want to goof around. Light FX models are great if you want something more ornamental. UltraSabers Renegade Combat Lightsaber is for serious fans who want their own version of Star Wars' iconic weapon to take into battle.

Elden Ring's Top Five Spells, According To FromSoftWare's Stats
Ever since I saw the first Star Wars movie in back of my dad's station wagon at the drive-in nearly 40 years ago, I've wanted a lightsaber. I've flip-flopped on colors over the decades—sometimes I'm nice and green, other times evil and red—but the desire has always been there.
I've made due with plastic toys. I picked up some of Hasbro's Bladebuilder kits on Force Friday last year. The kids love them. Yesterday one of my four-year-olds popped into my office holding a green saber and told me to get to work, shaking it menacingly. Definitely got my money's worth there.
I've considered the Force FX line before, but those replica sabers are made with display in mind. The blades can't be removed, they're definitely not built for anything other than light mock battles. If I was going to invest in a lightsaber, I wanted a sturdy one.
G/O Media may get a commission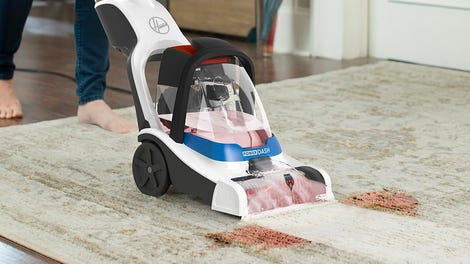 26% Off
Hoover PowerDash Pet Compact Carpet Cleaner
Little did I know that combat lightsabers were a thing. There's an entire subsection of Star Wars fandom that spend tidy sums on sturdy tooled metal with sophisticated electronics and sturdy blades built to take punishment.
Now I'm looking for a fight. Something like this, perhaps.
The more I looked into the hobby of saber fighting the more the name UltraSabers came up. They've been putting together custom battle-ready sabers for years, and are known for their quick turnaround, variety, attention to technical details and overall passion for the weapons they create. I've been watching videos of owner Emory Harris describe new products for ages, so when the company reached out to me to give one a go I was giddy with excitement.

The only problem was I had no idea which saber. They asked me to choose a configuration, and I sat there staring at dozens of hilt choices, from simple straight ones to Dooku-esque fancy curved affairs. What about something double-bladed? Which color? Style? I left them hanging for weeks.
Then I watched Harris showing off the Renegade LE.
With the home release of Star Wars: The Force Awakens around the corner, I figured I'd go a little Kylo, if you know what I mean. Check it out in the video below. Mind the theatrics. Also mind the earring I lost during the theatrics.
Toy Time Wields UltraSabers Renegade Combat Lightsaber
The Renegade came in two packages, one with the assembled hilt complete with emitters and customizable Obsidian V4 sound chip, a charger and a Covertec belt clip for hanging should I wish to walk about town with it (and I do.) The other package contained the polycarbonate blades, which I was initially worried would be fragile but have since taken to beating the crap out of things with.
Upon putting it all together and powering it up I was amazed at how bright it was, even in a well-lit room. Here it is in front of my studio lighting, crimson hate overpowering its pure glow.
And in the dark, it is the absolute best thing ever. You want to look evil? Do this.
Weighing at least five pounds, the full Renegade LE bestows a feeling of power upon its wielder. It's an amazingly sturdy and glows brilliantly. The "flash on clash" option is installed, meaning hitting this with it causes the blade to flicker a slightly different color.
As for sound, which you can hear in the video above, it's pretty spectacular as well. The Obsidian V4 sound chip comes with several different sound profiles loaded, which can be swapped out with a few simple presses of the sabers' silver power button. Even better, enthusiasts can program their own sounds onto the chip. Want your lightsaber to sound like a duck? Why would you want that? I mean you can do it, but why?
UltraSabers Renegade LE is a lot of combat saber. Of course with great power comes great price. Checking the website, the price as configured was upwards of $500, with a base price of $320 or so. UltraSabers have sabers with basic sound that start around $160, and simple stunt sabers with no sound starting at $55.
Now to be fair, I've not tried sabers from other outlets. UltraSabers is my first. That said, I'm quite pleased. From the machining on the hilt to the way the tech techs the tech, every aspect of the Renegade LE impressed me.
Now I just have to find someone to fight with, or purchase a pair of smaller sabers and start training my padawans.