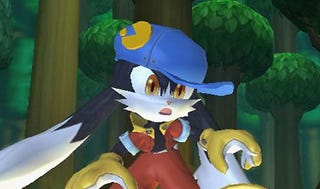 Regular followers of the works of actor Matthew Perry, of Friends fame, know that the man is deadly serious about Fallout 3. He claims to have played it so much, that he required medical attention.
But he's also a dedicated Klonoa fan, apparently, seemingly one of the few Wii owners who has bothered to pick up the gorgeous remake. Perry publicly expresses his adoration of the Wii-make via his Twitter, offering a little bit more information about his playing style.
On May 5th, Perry wrote: "About to try a new video game called Klonoa....I'll let you all know how it is. I'm 39."
Ten days later, the actor was still into it, writing that he was going "back to the gym and then a little Klonoa." Perry clarifies for the uninitiated that Klonoa "is not a venereal disease..it's a video game."
Finally, Perry updates the Twitter-following masses with: "Many of you have asked what Klonoa game I am playing. It's the new one on the Wii. I'm at level six. I play with my pants around my ankles."
Let's get this man some more professional attention, OK?
matthew perry (langfordperry) [Twitter - thanks, Jess?]