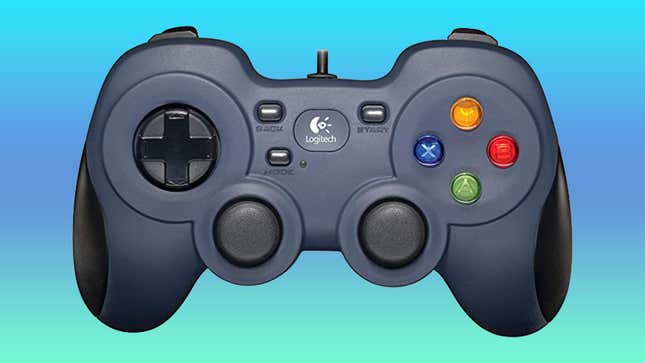 Just days after five people went missing on a tourist submarine believed to be (at least at one point during its construction) piloted by a wireless Logitech controller, Logitech appears to be running a controller sale on Amazon.

The Week In Games: What's Coming Out Beyond Cyberpunk 2077: Phantom Liberty
The tourist sub, called the Titan, was en-route to find the wreckage of the HMS Titanic on June 18 when it lost contact with it support vessel, according to The Associated Press. Older interview footage featuring the creators of Ocean Gate, the company behind the tourist vessel, showed the crew using a wireless Logitech G F710 wireless game pad to pilot the tourist sub.
It's unclear if that's what was being used at the time the vessel was lost, though the footage has made the controller go viral amongst video game fans. Part of the reason for this is because the Logitech controller is third-party, which sometimes have a stigma for not being as reliable as first-party controllers—especially the wireless ones.
As Gene Park at The Washington Post writes, using controllers to pilot submarines is normal, but using wireless ones reliant on Bluetooth connectivity is not.
The five members of the tourist expedition are still currently missing at the time of publication. According to a story being updated in real-time from The New York Times, "banging sounds" were detected on June 20 by members of the search party, which includes the U.S. Coast Guard, Navy, and international teams from Canada and the United Kingdom. The Coast Guard said that teams had already searched an area roughly the size of Massachusetts, but that finding the Titan sub would still require "highly specialized equipment" to retrieve it.
Also on June 20, Amazon game deal hunter Cheap Ass Gamer shared a Logitech peripheral sale on its Twitter page, with an image including the wired and wireless versions of the controller in question.
Clicking the link to the sale, however, takes you to a landing page that only features the Logitech G29 racing wheel, and the Logitech F310 wired gamepad—the wireless controller at one time used by the Ocean Gate crew is conspicuously absent, though it's available elsewhere on Amazon through third-party sellers. The F 310 appears to be a very similar design to the G F710, which is at this point over a decade old. Both controllers, for what it's worth, have reviewed very well with people who have tried them.
Naturally, Twitter is going wild over the premise that Logitech has put the now-infamous controller on sale. Kotaku reached out to Logitech for comment.