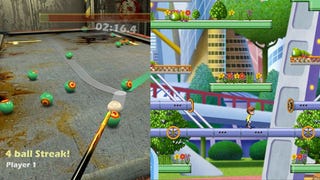 Climb up some rainbows or shoot a few balls in this week's two new Xbox Live Arcade games, Rainbow Islands: Towering Adventure! and Inferno Pool.
Two new titles hit the Xbox Live Arcade this week, both setting you back 800 Microsoft points should you choose to partake. Inferno Pool is a whole new sort of competitive pool, with players firing balls at their opponents as they attempt to domination their own tables in 1-4 player multiplayer online and offline matches.
Rainbow Islands: Towering Adventure! is a platforming game in which the player tries to climb from the Earth into outer space, harnessing rainbows to aid your ascent. Solo players can partake of Story, Time Attack, and Challenge modes, with 2-player co-op and competitive online play available for those who would rather involve others.
Anything strike your fancy this week? I'm eying Inferno Pool, though I might hold out for Hustle Kings on PSN this winter.